Wolfgang Schaeuble's Staff Rate Him a Great Big Zero
By
400 employees pose for picture forming human black zero

Schaeuble takes over as Bundestag president on Tuesday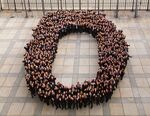 Wolfgang Schaeuble, who's departing the German Finance Ministry after eight years at the helm, got a parting gift that was surely music to the ears of a fiscal conservative like himself.
About 400 ministry employees dressed in black formed a large human zero to celebrate the signature achievement of his time in charge -- Germany's balanced federal budget, which is referred to in the country as the black zero. Bild Zeitung, the nation's largest-circulation newspaper, ran the picture on its front page as its photo of the day.
Schaeuble, who is taking over as head of the lower house of parliament on Tuesday, first balanced the budget in 2014 and has managed to do so ever since, even running a surplus at times. More important to Schaeuble's legacy than the ministry send-off, the parties negotiating with Chancellor Angela Merkel to join her next government have said they intend to continue the budgetary prudence.
Germany's newly formed Bundestag convenes Tuesday to elect Schaeuble as the speaker of parliament, officially the second-highest office in the German state after the president. Schaeuble, the country's longest-serving lawmaker, is charged with preserving order in the Bundestag as the institution for the first time in postwar history sees the arrival of more than 90 lawmakers from a far-right party.
Before it's here, it's on the Bloomberg Terminal.
LEARN MORE