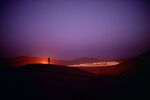 The promotional video for NEOM, Saudi Arabia's proposed $500 billion city of the future announced on Tuesday, errs toward the dreamy and inspirational end of the artistic spectrum. But I couldn't shake the feeling it might also be perfect as the happy prelude to some dystopian movie where society drowns in its own hubris.
NEOM debuted at a conference this week in Riyadh, dubbed "Davos in the desert" and effectively a giant marketing pitch to draw in dollars as part of Saudi Arabia's effort to reform its oil-dependent economy. It manages to be simultaneously ambitious and derivative -- which underscores a central challenge facing the country and the global oil market that depends on it.
On the ambitious side of the ledger, offering people "a lifestyle that surpasses that of any other metropolis" isn't even NEOM's most aggressive claim. It is supposed to cover just over 10,000 square miles of desert in Saudi Arabia's northwestern corner -- big enough to accommodate about 37 Singapores.
What's more, NEOM will also apparently spread into Egypt (via a proposed bridge) and Jordan, creating a transnational economic zone in the heart of the Middle East.
From this blankest of slates will arise an advanced hub featuring the latest technology in everything from seawater farming to artificial intelligence to 100 percent renewable energy. By 2030, its GDP is expected to top $100 billion, equivalent to about a sixth of Saudi Arabia's current economy and about the same as for that other desert outpost, Las Vegas. Leading the charge to build this mega-city is none other than Klaus Kleinfeld, the soccer-loving former CEO of Arconic Inc. who was ousted in April.
Now, look, it's easy to scoff. Remember, though, that NEOM is basically a giant real-estate pitch, and the hyperbole -- I got my annual allowance of "idyllic" in the five minutes it took me to read the fact-sheet -- doesn't look so strange. 1
The fact is, Saudi Arabia's plans to remake itself are ambitious in the extreme. At such times, and with executives controlling trillions of dollars having just flown in, it is natural to dust off the thesaurus and really let the punters have it.
Just as Elon Musk professes to set unrealistic targets in order to spur suppliers and staff at Tesla Inc., so Saudi Arabia's Prince Mohammed Bin Salman must set lofty goals to maintain momentum on reform (I actually see quite a few parallels between Musk and the prince, as I wrote here).
And yet, the overall impression of effectively recreating Dubai on the opposite side of the Arabian peninsula -- albeit one with lots of robots, supposedly -- seems less futuristic than NEOM's literature suggests.
As analysts at Capital Economics point out in a report also published on Tuesday, this wouldn't be the first time Saudi Arabia has touted mega-projects and special economic zones to spur growth and economic diversification. The King Abdullah Economic City in Rabigh -- tagline: "The dawn of the world's next great economic city" -- targets a population of two million, according to this presentation by the Saudi Arabian General Investment Authority. Yet, as Capital Economics reports, it has only around 5,000 permanent residents, and its ship traffic is way behind that of Dubai's port of Jebel Ali.
More importantly, the NEOM vision lays bare the tensions within the broader reform project. As Sarah Ladislaw, a dirctor and senior fellow at the Center For Strategic And International Studies, put it to me on Tuesday:
[It] Seems like a pattern is emerging: Seek systemic change in the Kingdom's operations, but also create completely new alternatives to that way of life that circumvent the system and can be less encumbered.
As of now, there are few details on exactly how NEOM will fit within Saudi Arabia as a whole. Even the touted transnational nature of it seems barely sketched out; my understanding is that there's an agreement in principle with Egypt on sharing some land, but discussions are ongoing (I've no word on Jordan's position).
If NEOM is to be any sort of hub, let alone the futuristic, cosmopolitan one from the video, then it will have to offer freedoms in terms of lifestyle, business and getting into and out of the place that are completely at odds with the rest of Saudi Arabia currently. Overall, the country ranks 94th out of 190, just above El Salvador, in the World Bank's ranking of countries by ease of doing business. When it comes to trading across borders, it's at 158th, just above Myanmar and way behind the United Arab Emirates (at 85th).
Saudi Arabia has made some moves toward shifting societal norms away from ossified traditions, such as removing the ban on women driving. Even so, the country has also shown signs of watering down the reform program announced only last year; and the totemic IPO of Saudi Arabian Oil Co., or Saudi Aramco, has clearly run into some difficulties despite the public pronouncements that all is well.
The country's biggest challenge remains switching its economic model away from extracting rents from its oil reserves toward extracting the full potential of a markedly young population in a restless part of the world:

As of last year, the OECD estimated only 1.2 percent of Saudi Arabia's young people could expect to earn a master's degree or equivalent in their lifetime, ranking the country 37th out of 38 on that score. Whatever else NEOM ends up having, it'll need good schools. More importantly, it had best not prove a distraction from the more prosaic reforms the country urgently requires.
Before it's here, it's on the Bloomberg Terminal.
LEARN MORE