Regal Cinemas Plan May Let You Pay Less for Flops, More for Hits
By
CEO Amy Miles will try out new strategies in early 2018

Company won't partner with MoviePass subscription service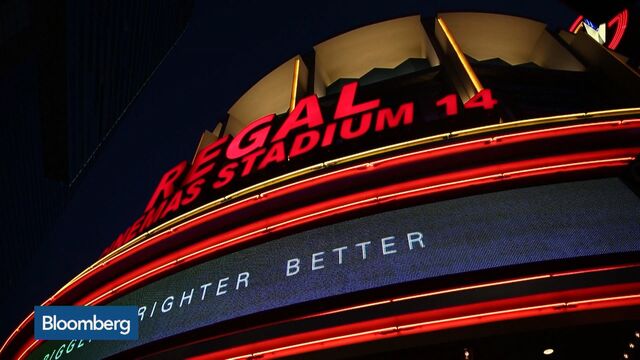 Regal Entertainment Group is testing demand-based pricing for films, potentially leading to higher prices for top hits and low prices for flops, a big change for an industry that typically uses a one-size-fits-all approach.
Working with app maker Atom Tickets LLC, which has lobbied theaters to try dynamic pricing, Regal plans to test the concept in early 2018 and see if it boosts revenue and fills more seats at non-peak times.
"Changes to the historical pricing structure have often been discussed but rarely tested in our industry, and we're excited to learn even more about how pricing changes impact customer behavior," Amy Miles, chief executive officer of the Knoxville, Tennessee-based exhibitor, said Tuesday on a call with analysts.
Shares of cinema chains have been pummeled by falling attendance and threats to the traditional Hollywood movie model, with more people staying home to watch streaming services like Netflix Inc. Studios, also hurting, have been pushing to make new movies available in homes sooner -- cutting the window of exclusivity that theaters enjoy.

Regal, the second-largest chain in the U.S., reported Tuesday that revenue dropped 12 percent from a year earlier to $716 million, attributing the decline to an underwhelming movie slate. Regal shares have slumped 21 percent this year. AMC Entertainment Holdings Inc., No. 1, has tumbled 58 percent.
Industry executives are debating whether dynamic pricing will increase attendance. Some object to a system that would involve charging higher prices for hit movies and lower prices for unpopular movies. Miles said Regal would conduct the tests in enough markets to be statistically significant and said the experience of Atom Tickets, which sells movie passes through its app, will be helpful.
"If we can get consumers to go one more time a year, that is transformative to the whole business," said Matthew Bakal, co-founder and executive chairman of Atom. The company has already worked with Regal on services such as pre-ordering concessions.
Miles said Regal won't consider sharing revenue with MoviePass, a controversial service that offers consumers once-a-day admission to theaters for less than $10 a month. MoviePass pays full price for tickets to theaters and therefore loses money on every subscription. The company said it plans to make up the difference through advertising revenue and by gaining a share of theater concession sales.
Before it's here, it's on the Bloomberg Terminal.
LEARN MORE