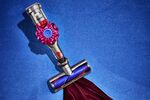 The Characteristics
Inspired by a centrifuge used to separate paint particles from the air, James Dyson came up with the world's first bagless vacuum cleaner in 1983 after famously going through 5,127 prototypes. Fast-forward a few decades, and his namesake company now uses the same "cyclone" technology to make the pinnacle of handheld vacuums. The V7 Trigger is a cordless cleaner that weighs a mere 9 pounds and operates for 30 minutes on a rechargeable battery. And at 100 air watts, it comes with the strongest suction available in an unplugged nonupright model.
The Competition
Those who grew up with Dustbusters will hardly recognize the rugged looks of Black+Decker Inc.'s latest cordless vacuum, the $100 SmarTech Pet. It uses the same motorized brush head as the $199.99 Dyson, but, with its 35 air watts, it lacks roughly two-thirds of the V7's suction power. Both the Black+Decker and Hoover's $250 cordless React Advantage have "floor-sensing technology," which automatically optimizes performance based on floor type. The Hoover weighs almost twice as much as the Dyson, however, making it less practical for a quick cleanup.
The Case
The V7 tackles the unexpected mess as ably as it excels at fastidious cleaning. A multitude of accessories, including a narrow-crevice tool and dusting brushes, mean it's versatile enough to get into tough-to-reach places. And Dyson's suction power is the real deal: If you're used to having one machine for heavy-duty jobs and another for quick pickups, you'll be pleasantly surprised by its ease and all-in-one power. An extra $65 gets you a home cleaning kit, which comes with a multi-angle brush, a soft dusting brush, and a stiff bristle brush for caked on mud.
Before it's here, it's on the Bloomberg Terminal.
LEARN MORE