China Has Asked Firms to Delay Bad Results During Congress, Sources Say
Bloomberg News
At least 17 Shenzhen companies have announced reporting delays

One company says 'we have a lot on our plate to deal with'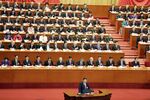 China's securities watchdog has asked some loss-making companies to avoid publishing quarterly results this week as authorities seek to ensure stock-market stability during the Communist Party Congress, according to people familiar with the matter.
The China Securities Regulatory Commission made its requests via the country's stock exchanges, the people said, asking not to be named as they're not authorized to talk to the media. At least 17 Shenzhen-listed companies announced delays to their earnings reports from Oct. 20 to Oct. 24, up from three during the same period last year, exchange filings show. The CSRC declined to comment, while China's bourses didn't respond to faxed questions.
Chinese regulators have stepped up efforts to quell market volatility during the twice-a-decade congress, a highly-choreographed reshuffling of the country's top leadership that's expected to shape President Xi Jinping's influence into the next decade. While the smallest equity swings in 25 years suggest government interference has worked, critics argue that China's leaders have backpedaled on a pledge to give market forces a more central role in the world's second-largest economy.
Read more about China's congress-related intervention efforts here

Shandong Minhe Animal Husbandry Co., which farms chickens, and Shenzhen Hifuture Electric Co., an electrical equipment maker, were among the Shenzhen-listed companies asked to withhold their results this week, the people said.
Shandong Minhe, which estimated a loss for the Jan.-Sept. period in an Oct. 13 filing, said on Sunday that it hasn't finished checking the content of its earnings report and will postpone its release, previously scheduled for Tuesday, to Oct. 30. Shenzhen Hifuture, which also projected a Jan.-Sept. loss on Oct. 13, gave this explanation for a similar delay in a Sunday filing: "We have a lot on our plate to deal with."
Shandong Minhe declined to comment further when contacted by Bloomberg News. The stock dropped 1.1 percent on Tuesday and is down 35 percent this year. Shenzhen Hifuture, whose shares have been suspended since January, didn't immediately reply to an email.
Not all Chinese companies refrained from reporting losses this week. Wuhan Guide Infrared Co., a maker of thermal imaging products, announced a third-quarter loss of 1.5 million yuan ($226,000) on Monday, versus a 3.48 million yuan profit a year earlier. Oriental Times Media Co. said the same day it had a third-quarter loss of 2 million yuan.
Most of the 17 Shenzhen-traded companies that announced delays to their results had previously predicted losses or steep earnings declines, filings reviewed by Bloomberg show. Ten of the companies declined on Tuesday, while one was little changed and one rose. Trading in five of the stocks was suspended.
— With assistance by Steven Yang, Amy Li, Amanda Wang, Cindy Wang, and Helen Yuan
Before it's here, it's on the Bloomberg Terminal.
LEARN MORE