Weinstein Co. Probed by New York Over Sex Harassment Claims
By
Eric Schneiderman subpoenaed film studio for documents

Company fired co-founder Harvey Weinstein over sex allegations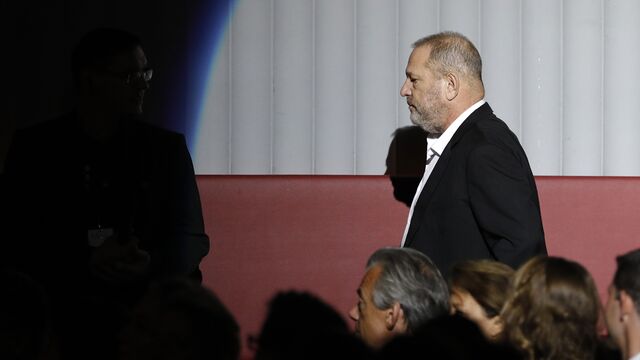 The embattled film studio Weinstein Co. is being investigated by New York Attorney General Eric Schneiderman over possible civil rights violations following claims that ousted co-founder Harvey Weinstein sexually assaulted and harassed women for decades.
Schneiderman's Civil Rights Bureau subpoenaed the New York-based company on Monday as part of a probe into whether studio officials violated New York civil rights law in their handling of the abuse claims, which were kept from the public for years, according to a person familiar with the matter.
"No New Yorker should be forced to walk into a workplace ruled by sexual intimidation, harassment, or fear," Schneiderman said in an emailed statement. "If sexual harassment or discrimination is pervasive at a company, we want to know."
The subpoena seeks all internal Weinstein Co. documents and records stemming from sexual harassment complaints against employees and managers, as well as discrimination on the basis of gender or age, according to the person. Schneiderman also wants documents concerning the company's criteria for hiring, promoting and firing its employees, the person said.
Revelations about Weinstein's alleged abuse started a national conversation about harassment of women and refocused the attention of authorities. The Los Angeles Police Department said last week it's investigating a 2013 case of potential sexual assault involving Weinstein. Scotland Yard is also probing several cases in London, The Guardian reported.
Weinstein, 65, has denied any nonconsensual sexual conduct with any women. Edward Evans, a spokesman for the law firm Boies, Schiller & Flexner LLP, which represents Weinstein Co., didn't immediately return a call for comment.
New York-based Weinstein Co. fired Weinstein in response to the scandal. Last week the company denied a report it's exploring a sale or shutdown, saying it's moving ahead with a planned release of new films. The company said it will release the movie "Polaroid" on Nov. 22 and "Paddington 2" on Jan. 12.
The New York Times first reported the abuse claims and the Schneiderman investigation.
Before it's here, it's on the Bloomberg Terminal.
LEARN MORE