Business
Ryanair Feud Escalates as Pilots Demand More Cash, Free Coffee
The penny-pinching budget airline faces an uprising from pilots demanding more cash and free coffee.
By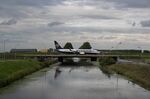 A pilot revolt at Ryanair Holdings Plc is threatening to undermine the penny-pinching credo that's made the Dublin-based carrier Europe's most valuable airline.
A stand-off that's simmered since mid-September, when the airline abruptly canceled more than 20,000 flights because of botched planning, escalated Friday after flight crew at London Stansted airport rejected an offer for increased pay. An ad-hoc council demanded salaries be doubled and extended across the airline's European bases, according to a document sent to pilots on Sunday and seen by Bloomberg News.
The unofficial group, called the European Employee Representative Council, is seeking a salary increase to 150,000 pounds ($198,000) for captains from 64,000 pounds currently, and pledged to organize strikes if a deal can't be reached. Ryanair's shares fell as much as 2 percent in Dublin on Monday, trimming the gain this year to 10 percent.
"This is a further tightening of the screw, further acknowledgement that Ryanair is on the backfoot," said Padraic Regan, an aviation strategy professor at Trinity College Dublin. "The share price has been impacted, and shareholders are getting irked by that."
Industrial Action
The rogue pilots council, created after the bout of cancellations last month, is seeking to establish a collective bargaining group across the carrier's 86 bases. The move is a challenge to the long-standing divide-and-conquer approach to labor relations at Ryanair, which has shunned company-wide employee groups.
At Stansted, the carrier's largest base, 60 percent of pilots voted against a raise that would have boosted compensation to about 20 percent more than rivals Norwegian Air Shuttle ASA and Jet2, which, like Ryanair, operate Boeing Co. 737 jets.
"While no pilot may wish to take industrial action, sometimes it is the only way to bring an intransigent employer to a satisfactory agreement," the council said in a letter accompanying the document. "We have to consider this possibility to ensure we have an equal voice at the negotiating table."
The demands, which would be retroactive to Sept. 1, include requiring Ryanair to cover the cost of uniforms, training, health care, on-board drinks and snacks, and ground transport and accommodation while working from an alternative base. The plan also calls for permanent contracts for pilots currently working as contractors and would grant shares in the company tied to seniority.

Pilots appear to be taking "an unreasonable stand," Mark Simpson, an analyst at Goodbody Stockbrokers in Dublin, wrote in a report to investors. "This is a wish list that will be firmly rejected by the company."
Ryanair, which became a darling of investors by rooting out costs and grabbing market share from established rivals, shrugged off the setback at Stansted, saying Friday it will hire pilots at the higher rates rejected at the base. A spokesman added that the company "will continue to engage" with its own employee council at London Stansted "to understand how it can address their remaining concerns." 
Management's offer for an increase of as much as 22,000 pounds, including bonuses, has been accepted at more than 10 bases, Ryanair said.
The rejection by Stansted pilots follows a similar rebuff at Ryanair's Madrid base, a call to strike by an Italian union and pledges of financial and logistical support from three major U.S. labor groups. Ryanair has said it will not recognize any union body, citing two previous failed efforts to organize its pilots in 2004 and 2012.
Bellew's Return
Ultimately, Ryanair is defending its bare-bones structure, centered around efficiency and low costs. To stem further pilot disruption, the company is hiring more staff to manage rosters and has named Malaysia Airlines Bhd. Chief Executive Officer Peter Bellew to replace its chief operations officer, who left this month. Bellew, a former Ryanair executive, will rejoin on Dec. 1.
Ryanair does have options to undercut upstart pilots, including hiring from the ranks of competitors Air Berlin Plc, Alitalia SpA and Monarch Airlines, which have all collapsed in the last few months. The company has also sent recruiters to Brazil and the United Arab Emirates. 
Still, the return of Bellew may offer Ryanair CEO Michael O'Leary a path to sweetening the deal for pilots without admitting defeat. "His first task is sorting out the rosters, which is essentially sorting out the pilots, and that will allow Ryanair to camouflage a climbdown as a new approach from a new manager," said Regan.
Before it's here, it's on the Bloomberg Terminal.
LEARN MORE