charted
Millennials Are More Likely to Buy a Self-Driving Car
Half of older Americans will stay on driverless sidelines
By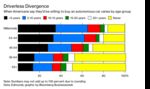 Half of retirement-age Americans say they would never buy a car that can drive itself, even if they're behind the wheel and able to retake control, a survey by car-shopping website Edmunds found. Millennials -- who purchase only about 11 percent of new cars today -- are less nervous about the fledgling technology, with nearly two-thirds willing to own a self-driving vehicle within the next decade. "The continued advances in autonomous technology should coincide with millennials' long-awaited mass entry into the market," Edmunds said in a report published Monday.
— With assistance by Dana Hull
Before it's here, it's on the Bloomberg Terminal.
LEARN MORE