Italy's Lombardy, Veneto Regions Claim Autonomy Wins
By and
Over 57% of voters in Veneto cast ballots, 38% in Lombardy

Vote strengthens Northern League ahead of general elections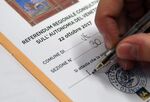 Leaders of two regions in Italy's wealthy north claimed victory in referendums Sunday to demand more autonomy from the state, in a ballot that could strengthen the anti-immigrant Northern League party ahead of national elections early next year.
Final vote counts showed that 95 percent of those who cast ballots in Lombardy and 98 percent in Veneto supported greater autonomy. Over 57 percent of voters in Veneto went to the polls while turnout in Lombardy was 38 percent, according to regional electoral authorities.
"While the impact on markets is likely limited, this was a good test for the Northern League and right-wing parties," Vincenzo Longo, an analyst at IG markets in Milan, said in a phone interview. "Still, at the moment I don't expect a referendum for independence."

While the legal but non-binding referendums have little in common with the recent Catalan independence vote in Spain, they do echo autonomy movements in countries including Scotland and France. Televised images showed voters in Lombardy and Veneto, whose regional capitals are Milan and Venice, smiling and waving proudly to television cameras after exiting voting stations.
"What has won is the idea that we should be in charge of our own backyard," Luca Zaia, head of the Veneto authority and one of the main promoters of the referendums, said after the vote. The results also prove that "reforms are possible while staying within the constitution."
While the passage of the measure wasn't in doubt in either region, the focus was on turnout, with Veneto needing more than 50 percent of voters to cast ballots to render the process valid and backers of the referendum in Lombardy saying they would view a turnout of about 35 percent as a mandate. Milan and Venice had lower turnouts, at 31 percent and 45 percent respectively, than their surrounding provinces.
Northern League
Zaia and fellow Northern League member Roberto Maroni, president of the Lombardy region, argue the results of the vote will allow them to reduce the gap between tax levies sent to Rome and the value of state services they receive in return. The Lombardy region estimates the shortfall at 54 billion euros ($64 billion), which it says is the highest in Italy, with Veneto third at 15.5 billion euros.

Maroni said after the vote that he will present devolution proposals to the central government in Rome in the next few weeks. He and Zaia have also said they plan to ask for more powers over infrastructure, health, education and security issues related to immigration.
The Northern League emerges strengthened from the referendums as their main promoter, even though ex-premier Silvio Berlusconi's center-right Forza Italia party and the opposition Five Star movement also backed the votes. The Democratic Party of Prime Minister Paolo Gentiloni was divided.
Nationally, opinion polls show the Democrats, the populist Five Star and a possible center-right bloc are virtually tied ahead of elections in 2018.
"I'm from Lombardy but didn't vote because I felt it was just an electoral campaign move," said Nicola Nobile, economist at Oxford Economics in Milan. "It is clear that the center-right remains very strong, especially in the North."
— With assistance by Chiara Albanese
(
Corrects turnout figure in first deck headline.
)
Before it's here, it's on the Bloomberg Terminal.
LEARN MORE