House Conservatives Say Tax Bill Draft Is Coming Within Days
By , , and
Hatch says Senate goal is to produce plan in 2 to 3 weeks

Timeline emerges as Senate leader seeks clarity from Trump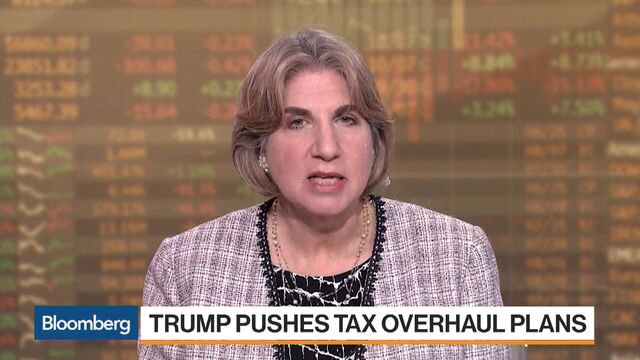 House and Senate leaders laid out an ambitious schedule for drafting and releasing tax legislation over the next few weeks -- a set of deadlines that must be met to try to achieve President Donald Trump's goal of delivering major tax-rate cuts by year's end.
House Freedom Caucus Chairman Mark Meadows said Monday he's been promised that the House Ways and Means Committee will release its plan about seven days after this Thursday's scheduled vote on a budget resolution. That would mean a bill text would be published on or before Friday, Nov. 3.
On Monday evening, Ways and Means Chairman Kevin Brady said only that the timing for a bill "is very shortly."
"On the day that budget is approved, signed, sealed and delivered," he'll announce plans for marking up tax legislation, said Brady, a Texas Republican. He said during the annual meeting of the Securities Industry and Financial Markets Association that "the timing is accelerated" for tax legislation after the House decided to vote on the Senate's version of the budget.
And Senate Finance Committee Chairman Orrin Hatch said his own panel needs to produce a plan in the next two to three weeks.
"I think we need to come up with it quite soon," said Hatch, a Utah Republican.
Last month, Trump and Republican congressional leaders released a framework for tax legislation that would cut tax rates for individuals and businesses. The corporate tax rate would drop to 20 percent from 35 percent, while the seven individual tax rates would be condensed to three or four. The final decision would be up to Congress.
In the House, Meadows made clear that members feel some pressure to deliver. "I don't want to give any finite numbers, but I fully expect us voting on this by the middle to third week" of November, the North Carolina Republican said. "The only way that happens is if you get the legislative text out soon after this week."
The Ways and Means panel plans to mark up a tax bill during the week of Nov. 6 and then send it to the House floor for a vote during the week of Nov. 13, according to two tax lobbyists who spoke with House GOP aides. The lobbyists asked not to be named.
'Susceptible' Senate
Meadows said there's more pressure for his conservative group to "negotiate a little bit more generously" after Congress's failed attempts to repeal and replace the Affordable Care Act this year.
Representative Dave Brat, a Freedom Caucus member, said the accelerated timeline will prevent lobbyists from winning changes to the bill that would water down the tax-rate cuts. He said the "Senate is more susceptible to that."
Meanwhile, the leader of another House GOP caucus said Monday he's open to a tentative plan to keep the current top individual tax rate for the highest earners. Republican Study Committee Chairman Mark Walker said he could live with taxing the highest earners at the current top rate of 39.6 percent if that's needed to get a tax bill enacted. Last week, House Speaker Paul Ryan said the draft plan would have such a bracket in order to funnel more benefits to the middle class.
"A key thing is making sure this benefits the middle- and lower-income individuals," Walker said in an interview. The North Carolina Republican chairs a caucus that has more than 150 House members.
At the same time, in the Senate, Hatch indicated that tax writers still aren't certain what Trump wants to see in the legislation -- a situation he wants to resolve.
"I think we need to know what the president wants to do and try to coordinate it with him," Hatch said. "So far I'm not quite sure where he's going."
Retirement Tweet
On Monday morning, Trump offered one of his most definitive statements about tax legislation to date as he said in a Twitter message that there'll be no changes to tax-deferred retirement savings plans. The New York Times reported on Friday that Republicans were considering reducing the cap on the annual amount workers can set aside for their 401(k) retirement accounts.
"There will be NO change to your 401(k)," Trump said on Twitter. "This has always been a great and popular middle class tax break that works, and it stays!"
Still, members of Congress indicated that potential changes remain on the table.
Under current law, workers can set aside as much as $18,000 a year -- or $24,000 for workers over 50 -- from their pretax income. One alternative that's under discussion would require people to fund their retirement with after-tax earnings, but allow them to withdraw the money tax-free later on, said Senator Rob Portman, an Ohio Republican -- essentially moving toward the model that's allowed for "Roth" individual retirement accounts.
The change would create a revenue bump by pulling forward the tax collection. "But actually you end up paying for it over time," said Portman, a member of the Senate Finance Committee.
The current approach to 401(k) savings is popular with many people "because they want the instant deduction," Portman said. "That's the concern I have."
Brady said Monday evening that tax writers want "Americans to save more" earlier in their lives and "'earlier in their incomes."
"You're going to see very strong incentives" for such savings, he said.
— With assistance by Laura Davison
Before it's here, it's on the Bloomberg Terminal.
LEARN MORE