Ex-Comic Stymies Slovenian President's Path to Re-Election
By
Pahor wins first round, fails to get majority to avoid runoff

Incumbent to face off against former comedian in Nov. 12 vote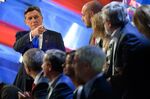 Slovenian leader Borut Pahor will compete against comedian-turned-mayor Marjan Sarec for the presidency in a runoff despite winning the first round by a wide margin.
Pahor won 47 percent, the election commission in the euro-area country of 2 million people said on Sunday. That fell short of the majority needed to clinch re-election in the first round. Sarec was runner up with 25 percent, and the two will face off again on Nov. 12.
Forced out of government six years ago, when voters rejected his plan to address a financial crisis that almost drove the country into a Greece-like international bailout, Pahor, 53, has staged a comeback. He was elected to the mostly ceremonial presidency a year later and has built a strong lead in opinion polls.
A former fashion model who has built support via a slick campaign on Instagram, Twitter and Facebook, Pahor has connected with voters by hiking 700 kilometers (430 miles) across Slovenia. That wasn't enough for an outright victory. His opponents say the approach underscored how much he's avoided making tough decisions on national issues including health care, a 2013 government-led bank rescue and a shakeup at the country's anti-corruption commission.
Hard to Match
"Pahor got almost double the votes that Sarec attracted, and that will be difficult to catch up in the second round," Otilia Dhand, an analyst at Teneo Intelligence in Brussels, said by email. "Sarec would basically have to get all the votes cast for other candidates in the first round to win."
The yield on Slovenia's benchmark bond maturing in March 2027 was little changed at 0.90 percent in Ljubljana at 12:47 p.m., according to data compiled by Bloomberg. The yield soared to the highest level in March, when it rose to 1.544 percent.
Sarec has branded Pahor as an empty suit who fears decision-making. Pahor has defended his tenure, saying the president has limited authority and he can't intervene "in matters that only deepen divisions."
Feeling empowered by his showing, Sarec told POP TV he is "ready to do something new in Slovenia, as politics in general have failed to justify trust." He has campaigned with pledges to bring new faces to top posts in the country and replace officials including Bostjan Jazbec, a governing board member at the European Central Bank.
An economic recovery failed to translate into higher wages and benefits for most Slovenians under Pahor and the government of Prime Minister Miro Cerar after the Adriatic country suffered a two-year recession that lasted until 2013. Gross domestic product grew an annual 4.4 percent in the second quarter from 5.1 percent pace in the first three months.
"I dare to say it, I will win this election in the second round in three weeks," Pahor told reporters in Ljubljana after the result. "In the end, I believe my political experience and my role at home and abroad will prevail."
Before it's here, it's on the Bloomberg Terminal.
LEARN MORE