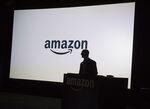 Companies and their investors are in a constant tug-of-war over financial disclosure. Investors want as many numbers as they can get about a company's performance and potential -- for them, there's no such thing as too many metrics. Companies, of course, would prefer to reveal as little as possible. 
And then there's Amazon.com Inc., which takes financial disclosure stinginess to the next level. So far, investors have been fine with it. They see one of the world's most ambitious companies and a stock price that has quadrupled since 2012, and happily toss aside their Amazon spreadsheets filled with question marks. 
But Amazon's thriftiness with financial disclosure could backfire. Secrecy is acceptable when companies are doing well. It becomes suspicious when things go south. 

Here's what investors don't know about Amazon: how many Prime customers it has (with a caveat); how much of its growing spending is devoted to big investments such as its network of merchandise warehouses or web-video business; how much money it's bringing in from sales of Amazon's voice-activated speakers, electronic readers or other gadgets; and how Amazon plans to profit from the $13.7 billion purchase of the Whole Foods supermarket chain. Don't expect answers to be forthcoming when it releases third-quarter earnings results on Thursday. 
When it comes to financial disclosure it sometimes feels like Amazon is playing a joke on its investors and the public. The company gives quarterly financial forecasts but they are comically broad. For the three months that ended in September, Amazon said it expects its operating profit to be somewhere between negative $400 million and positive $300 million. Super helpful, guys. 
Amazon also loves to show charts without labels. To celebrate the 10-year anniversary of the Amazon Prime membership program, the company released bars of increasing size representing the supposed yearly growth of Prime subscribers. What was missing were the actual numbers. Were the bars even to scale? Who knows. In case you thought this was a one-time thing, it most certainly was not. 
In place of financial information investors actually care about, Amazon is happy to substitute reams of fluff. This summer, details the company divulged about its "Prime Day" shopping holiday mentioned the number of light bulbs sold. Not mentioned: Any real sales numbers. Each quarter, the "highlights" in Amazon's financial report include information such as the number of Emmy Award nominations the company received, and progress updates on solar-panel installation at Amazon warehouses. The most recent edition was 1,500 words, or nearly three single-spaced pages.
Recently, Amazon opened up just a little about one of its biggest secrets: The tally of Prime members. While the company didn't give the actual numbers, it did disclose for the first time revenue from "retail subscription services," mostly from Prime. That allowed Amazon watchers to estimate the number of Prime members. (The figures were pretty close to longstanding estimates from research firms and stock analysts.)

But Amazon likely didn't voluntarily give up this information. According to records of correspondence between Amazon and the Securities and Exchange Commission, the examiners who review corporate financial disclosures prodded Amazon to reveal details on its Prime customer numbers.
Amazon initially said it didn't believe an analysis of its Prime customer numbers "is meaningful or practical," but after further back-and-forth with the SEC, the company agreed to begin disclosing its subscription revenue. The SEC also tried, but failed, to get Amazon to disclose sales figures of other products, including its line of Echo home speakers. Good try, bureaucrats. 
Mind you, Amazon has no problem blabbing about its financials when it's in the company's interests to do so. Amazon in 2015 started to disclose the revenue and segment operating profit of its cloud-computing business, Amazon Web Services, and it's not an exaggeration to say that the financial reveal boosted the company's stock market value by tens of billions of dollars.
Analysts until then had been able to roughly estimate sales for AWS, but the company's transparent disclosure -- especially about the surprising profit of the business-- changed the way investors valued the company.
It's tough to predict whether or how Amazon might start to get punished for its tightfisted approach to financial disclosure, especially in revealing its business strategy. A hiccup in Amazon's business could make investors dig in harder, and begin to doubt the decisions that have made the company what it is today. That's what happened to United Airlines' parent, United Continental Holdings Inc., last week.
There have been hints of annoyance at Amazon's inclination to say very little. On the most recent quarterly conference call with stock analysts, Amazon executives were repeatedly pressed about what benefit they see from spending money on grocery stores, the company's growing chain of bookstores and other physical locations. Naturally, Amazon executives wouldn't really say.
Before it's here, it's on the Bloomberg Terminal.
LEARN MORE