All Eyes on Xi Succession When China Leadership Lineup Revealed
By
Several scenarios in play for new Politburo Standing Committe

China's leaders have regularly signaled heirs since the 1990s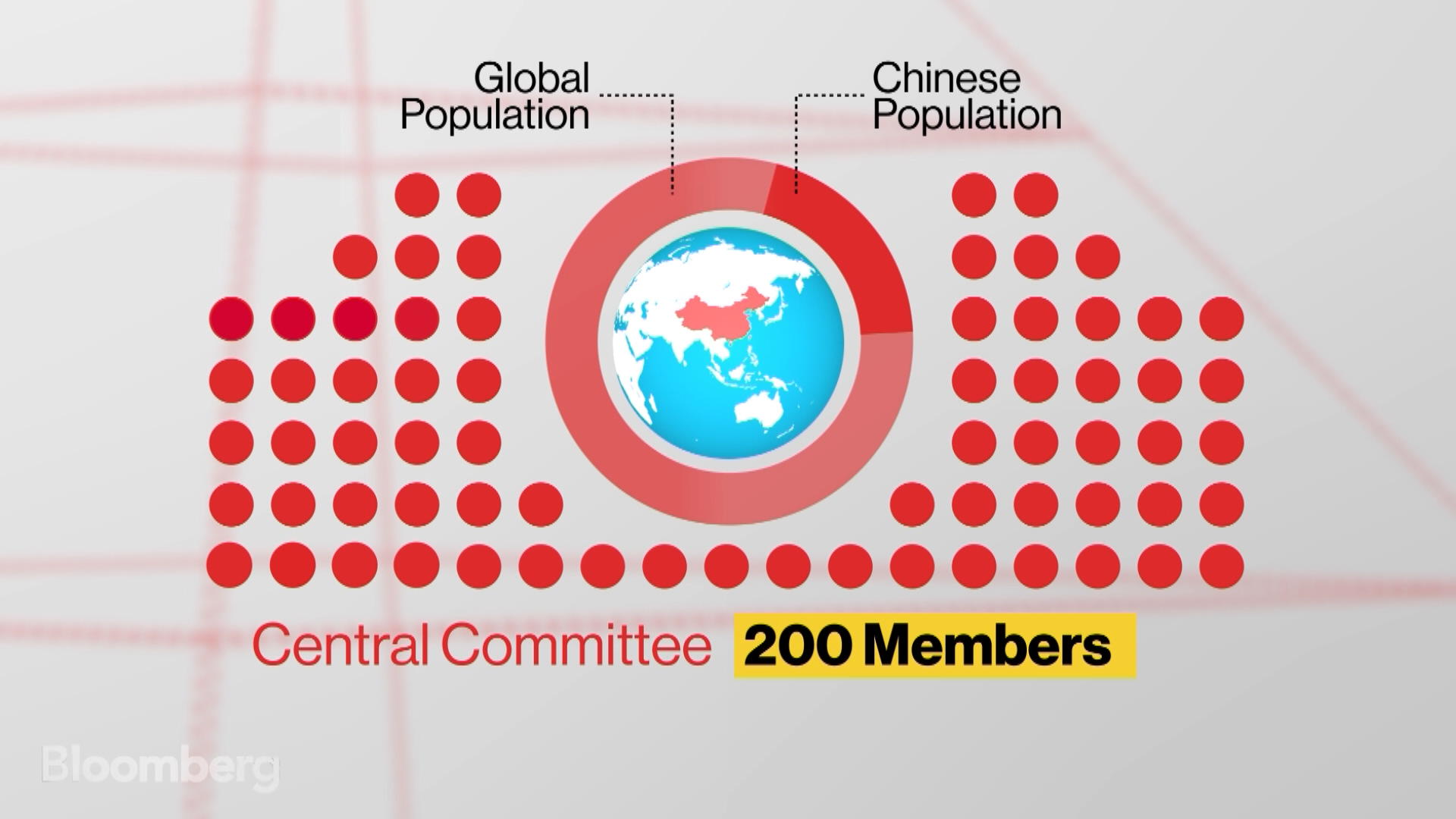 At about 11:45 a.m. on Wednesday, China will finally get an answer to the big question looming over the Communist Party's biggest political event: Will President Xi Jinping clearly signal a designated successor?
The 19th Party Congress that concluded on Tuesday in Beijing selected China's leaders for the next five years. About 200 people were appointed to what's known as the Central Committee, and about 25 of them will get seats on the Politburo, a group that meets monthly to set policy.

Within that organization is China's most powerful body: the Politburo Standing Committee. It meets weekly and approves all major decisions. The committee that will rule until 2022 will be revealed at the Great Hall of the People, when Xi and a handful of others walk onto a red-carpeted stage in a televised ceremony to present themselves to the world. Hundreds of reporters will be on hand to see if the lineup includes members young enough under current retirement age norms to step in and lead once Xi's second five-year term ends.
While speculation about the lineup has swirled for months, China watchers don't know for sure who will emerge on top of the secretive organization that governs the world's second-biggest economy. A contentious or unclear succession could raise political uncertainty, distracting the leadership from pressing economic and diplomatic issues.

Xi is already China's most powerful leader since Deng Xiaoping died in 1997, as measured by different party roles he's accumulated since taking office. Last week, he laid out a sweeping three-decade vision to cement the party's centrality over all areas of policy, and on Tuesday his name was enshrined in the party's charter under its guiding principles -- an honor that eluded his two immediate predecessors. The revised document also declared him the party's "core" leader indefinitely.
The Standing Committee currently consists of seven men, led by Xi and Premier Li Keqiang. The new group will walk out in order of their rank in the party hierarchy, and a successor would be apparent based on age: A potential heir would need to be young enough to rule until 2032.
The constitution currently limits Xi to serving only two terms as president. Still, he faces no restrictions on retaining his more powerful titles of party chief and head of the military.

Chinese politics is opaque, making it unclear if any scenario will hold for long. In July, Sun Zhengcai -- then in line for a top position as the youngest member of the 25-member Politburo -- was suddenly ousted due to corruption.
Here are the key scenarios to watch for:
No Obvious Heir
Xi walks out with six other men who were born before 1960. That would leave nobody young enough to rule for 10 years after 2022, according to current retirement conventions that mandate stepping down at age 68.
By not clearly signaling an heir apparent at the middle part of his term, Xi would be departing from party traditions in place since 1992. That would fuel speculation that Xi wants to stay on as party leader.
"Most likely he won't appoint clear successors at the party congress," said Minxin Pei, professor of government at Claremont McKenna College in California and author of the 2016 book "China's Crony Capitalism: The Dynamics of Regime Decay." "The safest thing to say is Xi has a lot of flexibility."
Successor Emerges
Xi walks out with two officials born in the 1960s, young enough to stay in power through 2032. Many analysts view the most likely successors as Chongqing's new party chief Chen Miner, 57, and Guangdong party chief Hu Chunhua, 54.

It's important to see who walks out first, signaling a higher rank. Hu was appointed by Xi's predecessor, former President Hu Jintao, while Chen once worked under Xi as a provincial propaganda chief.
Hu is the leader of Guangdong province, which has a population of 104 million people and an economy larger than Mexico's. He's an advocate of automation as a solution to slowing growth and rising wages, and has urged factories to "replace humans with robots."
Chen rose from governor of impoverished backwater Guizhou to party secretary of the southwestern metropolis of Chongqing. In Guizhou, Chen contributed to Xi's campaign against poverty by re-branding the province -- home to almost one in 10 of China's poor -- as a data-processing hub.

"For Xi, it seems there is only one criterion: whether you are Xi's protégé and totally devoted,'' said Willy Lam, author of "The Handbook of Chinese Communist Party" and an adjunct Chinese politics professor at the Chinese University of Hong Kong. "Chen's among his most-trusted subordinates."
Standing Committee Shrinks
Xi walks out and only four people follow him. Cutting the committee to five from seven would put Xi in charge of China's smallest leadership group in three decades.
The move would continue a shift to smaller leadership bodies that began five years ago, when the committee was slashed from nine. Another reduction would make it less likely that potential successors are among the new members.
"A smaller Standing Committee grants more power to the party chief because he can quickly convene a top meeting and needs fewer support votes to push through his agenda," said Gu Su, professor of Philosophy and Law at Nanjing University. "A bigger standing committee, like a nine-person committee, runs the risk of policy stagnation because the decision-making process is longer."
Before it's here, it's on the Bloomberg Terminal.
LEARN MORE