AFL-CIO President Richard Trumka Re-Elected to a Third Term
By
No one has challenged federation's trio of top officers

Unions convene in St. Louis amid ongoing decline and new peril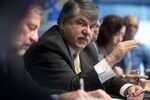 Union leaders gave AFL-CIO President Richard Trumka another four-year term to try to reverse the fortunes of the embattled U.S. labor movement.
Delegates at the labor federation's national convention in St. Louis re-elected Trumka on Sunday. Trumka, Secretary-Treasurer Liz Shuler and Executive Vice President Tefere Gebre all ran unopposed for new terms.
"Whether it's political action, legislation, or collective bargaining, you're going to see a unity from the labor movement that you haven't seen in decades," Trumka told reporters Sunday morning before the vote later in the day.
While Trumka's re-election proved easy, it takes place at time U.S. unionization is at record lows and the Supreme Court is considering a case that could shrink the membership even further by banning mandatory public-sector union fees.
Trumka has pursued a restructuring of the AFL-CIO this year, dismissing dozens of staff and dissolving departments in a move he said would tighten the group's focus on mounting campaigns, passing legislation and stimulating growth.
The re-election votes come at the start of the AFL-CIO's four-day convention, an event held every four years. Affiliates have submitted dozens of proposed resolutions for consideration by the delegates. Some of those advocate causes that have proved divisive within organized labor, such as keeping police unions within the AFL-CIO, curbing military spending and embracing a transition away from fossil fuels.
Before it's here, it's on the Bloomberg Terminal.
LEARN MORE