Senate Will Probably Confirm Trump's Fed Pick, But Not Without Some Drama
By and
All candidates likely to get 51 votes needed for confirmation

Some lawmakers haven't been shy about touting top choices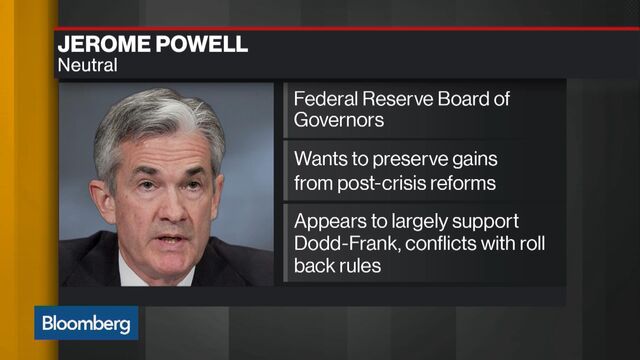 The U.S. Senate probably will confirm President Donald Trump's pick to lead the Federal Reserve, but the process won't be free of drama.
Any of the five candidates Trump is considering for Fed chairman risk some uncomfortable moments before lawmakers. But each seems likely to secure the 51 votes needed to win confirmation, according to congressional aides, lobbyists and analysts.
Trump is expected to make a final decision by Nov. 3, choosing between current Fed Chair Janet Yellen, National Economic Council Director Gary Cohn, Fed Board Governor Jerome Powell, former Fed Governor Kevin Warsh or Stanford University economist John Taylor. Trump's closest advisers are steering him toward choosing either Powell or Taylor, according to several people familiar with the process.
"I think each of them would probably be confirmed in the end," Senator Pat Toomey, a Pennsylvania Republican, said of the five finalists on Oct. 17. "Each would have their own unique challenges as well."
The first Senate hurdle for Trump's nominee would be testimony before the Banking Committee, led by Idaho Republican Mike Crapo. He is among members of the panel who have declined to publicly endorse any candidate, saying they would reserve judgment until someone is selected. 
While GOP lawmakers are expected to ultimately support any candidate Trump selects -- excluding Yellen -- some are trying to influence who gets nominated. Through backchannels, they've let the White House know who they like, and who they like less. Yellen would probably have to rely on backing from Democrats to get through.
A confirmation hearing would be set after the White House submits paperwork on the nominee, and the chosen candidate responds to a questionnaire from the banking committee. The nominee could face private meetings with each member of the panel in addition to the public grilling. Individual lawmakers could also seek answers to follow-up questions before the nomination is passed along for a full Senate vote.
Here's a look at the candidates Trump is considering and the obstacles they could face:
Janet Yellen
The current Fed chair is expected to have the hardest time winning over conservative Republicans, some of whom have strongly urged the White House against giving her another term. Appointed by President Barack Obama, Yellen embodies everything Republicans disliked about the Democrat-led response to the 2008 financial crisis. She has been criticized by GOP lawmakers for championing banking regulations that they say have crimped lending and for extending a liberal monetary policy that they claim has stunted economic growth.
Even if she loses some GOP votes, Yellen will probably win enough support from Democrats to win confirmation. And some Republicans have said they're keeping an open mind on her candidacy.
"There have been things I've disagreed with, but you're going to have that with any Fed chairman," said Senator John Neely Kennedy, a Louisiana Republican. "I think we ought to exempt community banks from Dodd-Frank. I think the people who put Dodd-Frank together, if you got them drunk, they'd tell you that, 'yeah, we probably made a mistake including the community banks.'"
Jerome Powell
There could be some awkward moments if Powell is selected and sits down with Republican Banking Committee members Toomey of Pennsylvania and Dean Heller of Nevada, both of whom voted against him in the past. The two were among 20 Republicans who opposed him in 2012 when he was confirmed to complete an unexpired Fed term. Powell was opposed by 23 Republicans, including Crapo, South Carolina's Tim Scott and Senate Majority Leader Mitch McConnell when he was confirmed for a full 14-year term in 2014.
That history of GOP opposition is being brought up behind the scenes by lawmakers and lobbyists who favor other candidates. Powell has been criticized by Republicans for failing to stand up to Daniel Tarullo, the former Fed governor who pushed for tougher oversight as the central bank's point man on financial regulation. He is also opposed by conservatives who would like to see a more hawkish, rules-based monetary policy.
While past votes don't necessarily dictate future opposition, Powell's background has raised concern among some Banking Committee members. In a private meeting with Republican lawmakers and staffers this week, Toomey raised issues about Powell's record, people familiar with his comments said. Crapo indicated he would share the concerns with the White House, the people said.
Steve Kelly, a spokesman for Toomey, declined to comment on the meeting, but said the senator "believes we need to go in a new direction at the Fed and both John Taylor and Kevin Warsh would be fine choices."
Scott would also prefer fresh leadership at the Fed, a spokesman for the senator said in a statement. If Powell is nominated, he would have to address serious concerns Scott has about his record at the central bank and what he intends to do as chairman, the spokesman said.
John Taylor
A Stanford economist, Taylor is one of the most hawkish of the contenders Trump is considering and a favorite among conservatives. He is the creator of the Taylor Rule, a widely cited guideline for setting interest rates based on economic conditions. He opposes giving the Fed unbridled discretion in guiding monetary policy -- a view shared by conservative Republicans including House Financial Services Committee Chairman Jeb Hensarling.
Some Wall Street lobbyists have been advocating against Taylor, according to people familiar with the matter, reflecting their concerns that his approach could be bad for business. And picking up support from Democrats might be difficult as well, given that some lawmakers would likely question the economic impact of any rapid increase in interest rates that could be triggered by the Taylor rule.
"Taylor would undoubtedly face the toughest confirmation process of all of the president's top five nominees," said Isaac Boltansky, a financial regulation analyst at Compass Point Research & Trading. "There would be questions from the right and the left regarding how his academic views would translate into real-world policy."
Kevin Warsh
Kevin Warsh, a former Morgan Stanley banker who served on the Fed board from 2006 to 2011, supports Trump's plans for cutting regulations, something that gives him appeal on Wall Street and among Republicans in Congress. He'd be more likely to overhaul rules rather than tweak them, but he'll have to defend himself against attacks that he's a Washington insider and not an economist. Liberal activists have been aggressively campaigning against his nomination.
Gary Cohn
Republican lawmakers don't know a lot about the views of the former Goldman Sachs Group Inc. executive who now leads Trump's National Economic Council, but they generally like what they know of his position on cutting regulations and his past criticism of the Fed's lack of transparency. Cohn's prospects have dimmed, however, after he publicly criticized remarks Trump made in response to racially charged violence in Charlottesville, Virginia. He'd also have to withstand attacks from Democrats over his Wall Street ties and his lack of experience in economics.
— With assistance by Jennifer Jacobs, and Saleha Mohsin
Before it's here, it's on the Bloomberg Terminal.
LEARN MORE