business
Brexit Bulletin: Merkel to the Rescue
By
May wins political cover from German leader at EU summit

No agreement expected Friday on move to trade talks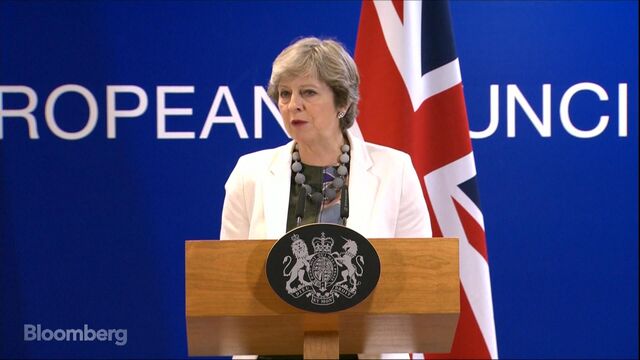 Sign up to receive the Brexit Bulletin in your inbox, and follow @Brexit on Twitter.
Shortly after midnight in Brussels, German Chancellor Angela Merkel threw Theresa May a lifeline.
At an EU summit, May had made a pitch to her fellow leaders: she needed their help to get a deal she could sell to skeptics back home. She made concessions in her recent Florence speech, she argued, and now she needed them to make a move too. "The clear and urgent imperative must be that the dynamic you create enables us to move forward together," she said. Crucially, she also signaled she's willing to offer more on the divorce bill that has deadlocked talks.
Merkel responded with a break from the EU's recent rhetoric: she said it's up to both sides to move so that a breakthrough can be reached by year-end.
"I see the ball not only in the U.K.'s court – I do also see it in the U.K.'s court – but I also see it in our court to the same extent," Merkel told reporters. "Now both sides need to move."

May now has something to take home to her unsettled Conservative Party, and the political cover she needs to offer more concessions and move talks along. The aim now is to reach a deal on the divorce settlement so that trade talks can start in December. Yes, there were warm words, but EU leaders were clear that May has to come back with new proposals before progress can be made.
EU leaders are aware of the fragility of May's position – she's fighting to keep her job and hold a squabbling cabinet together. That's why they offered her encouragement, according to an EU official speaking on condition of anonymity. The draft conclusions of the summit also point to possible progress before year-end, while demanding more concrete steps on issues such as the divorce bill.
Read more: The Brexit Bill and Whether Britain Will Pay Up
May also pointed out that EU leaders will need to be able sell the results of talks to their own people. Each country has its own sensitivities on Brexit: those with large migrant populations in the U.K. want a good deal on citizens' rights, others are keener to strike a good trade deal.
Some EU leaders are acutely aware their voters feel strongly that Britain should pay its dues. May has already agreed to pay into the budget for two years after Brexit, about €20 billion (£18 billion), and meet the U.K.'s financial obligations more broadly. Those additional commitments would add up to another €20 billion, people familiar with the discussions said last month. The EU side has floated numbers closer to €60 billion.
The German chancellor's upbeat tone on Brexit was in marked contrast to Germany's portrayal in the U.K. media as the principle obstacle to trade and a transition talks. In reality, Merkel has rarely commented on Brexit in the past two months as she's fought for re-election. Even when she has, the chancellor tended to adopt a matter-of-fact approach that stuck to the facts.
Brexit Latest
'Dark Money' | Labour lawmaker Ben Bradshaw called for an investigation into reports by Open Democracy about the funding of a key Leave campaign backer. Open Democracy, an advocacy-focused media platform, raised questions about the wealth of Arron Banks, a major pro-Brexit donor. Banks shot back: "Mr. Bradshaw still fails to understand why his side lost, and thus continues to peddle this rather tedious myth of a Russian conspiracy. Sad!"
Goldman Gone? | Goldman Sachs Group Inc. Chief Executive Officer Lloyd Blankfein announced on Twitter he'll be "spending a lot more time" in Frankfurt. "Great meetings, great weather, really enjoyed it." Frankfurt is emerging as the clear winner of London's Brexit-led bank exodus. 
Spying Risks | The former head of MI6 said Britain's power and influence will decline after Brexit as the economy suffers. "Brexit, assuming it goes ahead," would make diplomacy harder with "difficult" countries like Russia, Iran and North Korea, he told a House of Lords hearing.
Carbon Market Brexit-Proofed | Policy makers have reached an outline deal to make the cap-and-trade system resistant to potential turmoil should Brexit talks fail. They approved a provision designed to prevent companies and airlines using carbon allowances issued by the U.K. if the country falls out of emissions market.
Rolet's Exit | Xavier Rolet, the London Stock Exchange Group CEO who has been a vocal opponent of Brexit for the damage he predicts it will do to the City, will quit the group by the end of next year. He'll be leaving just as talks get down to the wire, with just three months to go before Brexit day.
Secret Plans | The U.K. Government has been making secret preparations since July for a no-deal Brexit, according to documents obtained by the Mirror.
On the Markets | The pound weakened on Thursday as retail sales dropped, and fell a touch further in early trading on Friday. That dampened the case for a rate hike that would support sterling.

And Finally...
Jeremy Corbyn was in Brussels too, to remind everyone he is plotting to have May's job soon.
Before the prime minister even arrived at the summit the Labour leader was telling fellow socialists he was "unapologetic in taking every opportunity to seek to influence the final Brexit deal." He had lunch at a Greek spot near the European Council building and hung out with Greek Prime Minister Alexis Tsipras, writes Bloomberg's Flavia Krause-Jackson.
"We follow your example," he told the Greek prime minister. Tsipras came to power with Greece facing a make-or-break negotiation with the EU, a path to power Corbyn aims to emulate.

For more on Brexit follow Bloomberg on Twitter, Facebook and Instagram
Before it's here, it's on the Bloomberg Terminal.
LEARN MORE