Austrian President Urges Kurz to Commit to EU, Human Rights
By
Revamped conservative set to become youngest government chief

Election lifted anti-immigration Freedom Party to kingmaker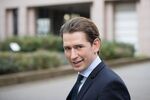 Austria's president called on Sebastian Kurz, the 31-year-old likely to be the country's next leader, to form a government committed to the European Union and human rights as he considers the nationalist Freedom Party as a potential partner.
As President Alexander Van der Bellen mandated Kurz and his People's Party to begin coalition talks, his comments hinted at the impact of Sunday's election that shifted Austria to the right and paved the way for the Freedom Party to return to power on an anti-Islam, anti-immigration platform. Kurz is poised to become the world's youngest head of government.
"The government's goal should be that Austria is a country in which mutual respect and the human and civil rights that are anchored in our constitution and the European Human Rights Convention are the compass for our actions," Van der Bellen, who defeated a Freedom Party candidate in a presidential run-off last year, said at a ceremony in Vienna on Friday.
He said he expects "a clear commitment to Europe" and an "understanding that Austria plays an active role for building a future common Europe."
In Austria, the chancellor and ministers are appointed to their executive posts by the president, not elected by the parliament, which can only vote to remove them. Even so, since any government needs a parliamentary majority to function, presidents since World War II traditionally rubber-stamp the governments presented to them.
Freedom Party leader Heinz-Christian Strache said on Wednesday that his party would only join a coalition if it heads the interior ministry, a position it would use to fight crime and speed up the deportation of illegal immigrants.
Outgoing Chancellor Christian Kern, whose Social Democrats lost the spot as the biggest group in parliament in the election, told the Austria Press Agency during an EU summit in Brussels that he expects Kurz and the Freedom Party to seal a coalition pact quickly.
Before it's here, it's on the Bloomberg Terminal.
LEARN MORE