Zhou Warns China Should Defend Against Threat of 'Minsky Moment'
Bloomberg News
PBOC governor warns optimism in good times can fuel tensions

Money supply growth picked up as economy expanded as forecast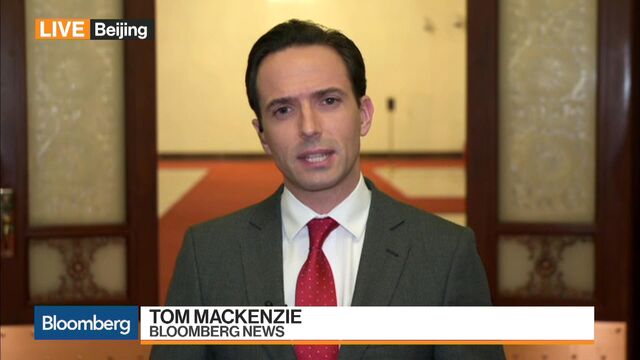 People's Bank of China Governor Zhou Xiaochuan warned Thursday against excessive optimism that could spur a sudden collapse in asset prices, adding to the caution top leaders have expressed this year as they redouble efforts to keep rising debt from derailing growth.
Zhou cited a concept known as a "Minsky Moment," a plunge in asset values following unsustainable gains or the exhaustion of credit growth, named for Hyman Minsky, an economist who argued that long bull markets can lead to major collapses.

"When there are too many pro-cyclical factors in an economy, cyclical fluctuations will be amplified," Zhou said in response to a question at an event on the sidelines of the 19th Communist Party Congress in Beijing. "If we're too optimistic when things go smoothly, tensions build up, which could lead to a sharp correction, what we call a Minsky Moment. That's what we should particularly defend against."
Zhou didn't specifically address any one asset class that could spur a sharp decline. He warned broadly of debt risk in the corporate and household sector, saying corporate borrowing is "very high," partly because of inadequate direct financing and the inefficiency of how some companies use capital.
He added that some debt measures may not tell the whole story because corporate debt can include obligations of local governments. Authorities need to guard against local government financing vehicles and other means being used "to disguise debts or break quotas," he said, appearing on a panel with other top regulators.
Read More: Bank Regulator Guo Endorses Reform of Finance Industry
Household borrowing isn't very high, but is growing rapidly, he said. "It's not that we'll deleverage the sector, but we need to monitor leverage quality as it grows," Zhou said.
Reports released Saturday showed broad money supply growth picked up in September after months of deceleration, defying government efforts to rein in debt growth and contain risk. 

Data released earlier Thursday showed the world's second-largest economy expanded 6.8 percent on-year in the third quarter, giving policy makers leeway to rein in excessive borrowing and putting them on pace to exceed the government's growth target for this year.
At a recent event with finance chiefs in Washington, Zhou warned Chinese companies have taken on too much debt, and argued for less financial leverage as well as fiscal reforms to constrain local government borrowing. While debt servicing costs remain low, "we need to pay further effort to deleveraging and strengthen policy for financial stability," he said.
— With assistance by Yinan Zhao, Miao Han, Heng Xie, Charlie Zhu, and Dingmin Zhang
Before it's here, it's on the Bloomberg Terminal.
LEARN MORE