Politics
The Real Winners in Trump's Tax Plan
Corporations and the wealthy would come out ahead. Here's the proof.
By and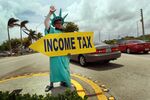 To promote his tax plan, President Trump issued a statement listing its benefits for workers and families. A closer look shows that many of his claims don't stand up to scrutiny.
Corporate Taxes
"More than 70 percent of the corporate tax burden falls on American workers, according to a Congressional Budget Office analysis."
That analysis dates to 2006. In 2012 the CBO updated its models and found that only 25 percent of the burden from corporate income taxes falls on workers. That year, a Treasury Department report put the figure at just 18 percent, revised to 19 percent in 2015.
"Cutting the corporate tax rate from 35 percent to 20 percent "could provide $4,000 in additional income to the average American household."
Average is misleading, according to the nonpartisan Tax Policy Center (TPC), which calculates that middle-income taxpayers would get less than 10 percent of the benefit of the corporate tax cut while a full third of the benefit would go to the top 1 percent—individuals who made at least $465,626 in 2014.
Job Creation
"Cuts like those in the proposed framework encourage the investment needed to create jobs. ... After President Bush's 2003 tax cuts, the economy created 7.8 million jobs over five years."
There is no clear link between tax cuts and job growth. After President Clinton raised taxes in the '90s, job growth soared. Employment also grew after tax increases in a package President Obama negotiated with Senate Republicans in 2013.

The Estate Tax
The plan would end "the job killing 'Death Tax.' Close to 20 percent of family business owners say planning for the death tax affects their ability to create jobs, according to Family Enterprise USA."
Only two out of every 1,000 deaths trigger the estate tax, which applies only to estates worth more than $5.49 million. Family Enterprise USA, a nonprofit that lobbies for the repeal of the estate tax, surveyed fewer than 200 people, most of them very wealthy.
Tax Breaks for Families
The plan would "double the standard deduction so that more income is taxed at zero percent."
The plan also eliminates the $4,050 personal exemption for each taxpayer and dependent, so some families could be worse off. The TPC estimates that more than a quarter of middle-class families would see their tax bills go up.
Before it's here, it's on the Bloomberg Terminal.
LEARN MORE