pursuits
A Veggie Burger That Bleeds Is Making Its Way to Cafeteria Lunches
By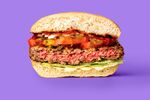 It looks like a burger, and it even bleeds like a burger. But it's made entirely from plants. The Impossible Foods Inc. veggie burger that's become the darling of world-renowned chefs like David Chang and gourmet chains such as Umami Burger is now heading for the cafeteria.
Impossible Foods is taking its product to universities and company cafes. The expansion into foodservice, which accounts for about half of ground-beef consumption, comes as the company's restaurant customers see double-digit same store sales growth, Chief Financial Officer David Lee said in an interview in Chicago. He said he expects the product to be in retail grocery stores in coming years, and eventually at prices competitive with commodity beef.
"Demand has outstripped supply for years; the consumer has been ready for a better product," Lee said. "We're very interested in and planning to expand supply continually."
At a new plant in Oakland, California, Impossible is ramping up production of its blend of wheat and potato protein which is used along with other ingredients to create the burger. A molecule called heme is also added, which gives the product both its bloodiness and meat-like cravability. The factory has a capacity of 1.4 million pounds a month, with each pound making four burgers. The closely held company is based in Redwood City, California.
Before it's here, it's on the Bloomberg Terminal.
LEARN MORE