U.K. Retail-Sales Growth Slumps to Weakest in Four Years
By
September decline of 0.8% was bigger than economists forecast

Half of Britons are financially vulnerable, according to FCA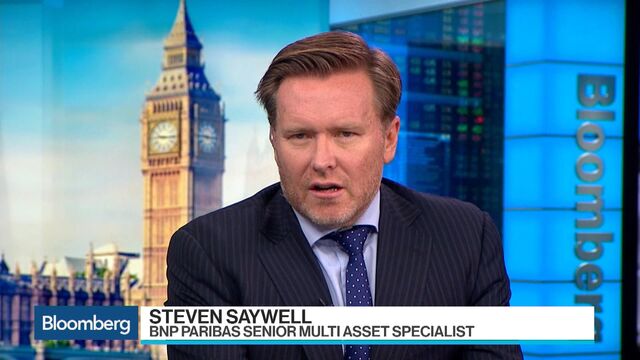 U.K. retail sales fell more than forecast in September, leaving growth in the third quarter at its weakest in four years.
Sales dropped 0.8 percent from August, far more than the 0.1 percent estimated in a Bloomberg survey. Over the third quarter, annual growth slowed to 1.5 percent, the worst performance since October 2013, according to data from the Office for National Statistics in London.

"That is a disappointing end to the third quarter," said Alan Clarke, an economist at Scotiabank in London. It's "not great for the prospects for 25 October when we get that first estimate of third-quarter GDP."
In the three months through September, retail sales rose 0.6 percent, which means the sector probably made a minimal contribution -- just 0.03 percentage point -- to GDP.
The pound dropped after the data, and was 0.1 percent weaker at $1.3186 as of 2:43 p.m. London time. It's depreciated more than 1.5 percent this month.
Britain's retail industry has been under pressure this year, with the weaker pound boosting stores' import costs and intense competition restricting price increases. At the same time, faster inflation has restrained consumer spending, and Sainsbury Plc and Tesco Plc have both announced job cuts this year.
Faster price growth means households are also coming under strain. A report published this week by the Financial Conduct Authority said that half of British consumers are financially vulnerable and that 4.1 million people are "in difficulty," because they have failed to pay domestic bills or meet credit commitments in recent months.
Food sales fell 0.6 percent on the month in September, while non-specialized stores -- largely department stores -- saw a 1.1 percent drop, the ONS said. There was a 6.7 percent fall in the category of "other stores." Within that, the ONS cited a variety of big moves, including opticians, souvenirs, weapons and ammunition, and stamps and coins.
The data adds to policy makers' picture of the economy as the Bank of England approaches its first interest-rate increase in more than a decade. The majority of rate setters, including Governor Mark Carney, now believe policy will need to be tightened "in the coming months" as slack in the economy erodes.
Still, there have been some warnings that the economy isn't ready for higher rates just yet. While inflation has accelerated to 3 percent, above the BOE's target, wage growth remains sluggish and real pay is falling, weakening household spending power.
— With assistance by Mark Evans, Harumi Ichikura, and Jill Ward
Before it's here, it's on the Bloomberg Terminal.
LEARN MORE