U.K. Lawmaker Calls for Probe Into 'Dark Money' Role in Brexit
By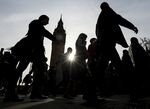 Follow @Brexit for all the latest news, and sign up to our daily Brexit Bulletin newsletter.
The U.K. should investigate whether "dark money" played a role in the 2016 Brexit referendum, a Labour Party lawmaker said on Thursday, citing a series of reports on the OpenDemocracy website about Arron Banks, who helped bankroll the 'Leave' campaign.
The request was made in Parliament on Thursday by former Culture Secretary Ben Bradshaw, a supporter of the 'Remain' campaign, who put the question to Leader of the House of Commons Andrea Leadsom.
"Given the widespread public concern about foreign, particularly Russian, interference in western democracies, will she assure the House that the government and the Electoral Commission will examine these reports very carefully, and reassure our country that all the resources spent during the referendum were from permissible sources?" Bradshaw asked.
Banks was one of the most prominent 'Leave' campaigners, and the Electoral Commission documents 6 million pounds ($7.9 million) of loans he made to Leave.EU Group Ltd., one of the main organizations campaigning for Brexit. Banks on Thursday issued a statement dismissing the accusations as a "myth."
"Mr. Bradshaw still fails to understand why his side lost, and thus continues to peddle this rather tedious myth of a Russian conspiracy," Banks said. "Sad!"
Leadsom, herself a 'Leave' supporter, said the issue should be raised with the Electoral Commission. "I absolutely share his concern that we need to make sure that all donations are indeed permissible and legal," she said.
Before it's here, it's on the Bloomberg Terminal.
LEARN MORE