Trump Tax Plan Has No Shot of Passing in 2017, Obama Official Says
By and
Iwry says tax cuts can still happen in 2018 despite mid-terms

Congress likely to tap retirement savings to offset cuts: Iwry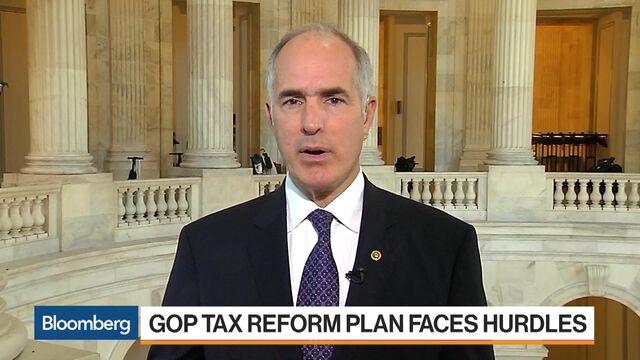 There's no chance that President Donald Trump and GOP leaders will be able to overhaul the U.S. tax code this year, but they may be able to pass a bill providing tax cuts, according to a former top Treasury official in the Obama administration.
"The odds of tax reform coming out of this Congress are zero percent," J. Mark Iwry, former deputy assistant Treasury Secretary in the Obama administration and a senior fellow at the Brookings Institution, said Thursday at a conference in New York. "The odds of tax cuts are considerably higher."
Trump and Republican leaders released a tax framework last month that calls for dramatic changes to the individual and corporate sides of the tax code, including lower rates, the elimination of deductions and other simplifications. Iwry said it's more realistic for temporary tax cuts to happen this year, or even next, despite fears by the GOP that mid-term elections could complicate the effort. Under budget rules Republican leaders have said they plan on adhering to, if tax cuts aren't offset and they add to the long-term deficit, they have to expire.
Iwry said he thinks Congress will tap retirement savings benefits to help pay for those tax cuts, so they don't add too much to the deficit. There's been speculation that Congress has been considering changes that would push workers to make more of their retirement contributions to post-tax accounts, also known as Roth 401(k)s, from which money isn't taxed when it's withdrawn. That would bring in immediate revenue, and could boost the tax bills of retirement savers who make all or some 401(k) contributions on a pre-tax basis.
The GOP tax framework says it retains benefits that encourage work, higher education and retirement security, and encourages the tax-writing committees to simplify those benefits to improve efficiency and effectiveness. It adds that a tax overhaul will aim to maintain or raise retirement plan participation of workers and the resources available for retirement.
'Politically Suboptimal'
Fully transitioning savers to Roth 401(k)s from traditional 401(k)s is likely "off the table," Iwry said. "It is too extreme and too politically suboptimal."
Partial Rothification, or placing a cap on pre-tax contributions to 401(k)s seems "highly likely if and when legislation is done," he said. The push for Roth 401(k)s was included in a tax plan from former Ways and Means Committee Chairman Dave Camp in 2014. Under Camp's proposal, the limit that could go into 401(k) plans pre-tax, which was $17,500 at the time, would have been cut it in half so that workers could save $8,750 pre-tax, but anything after that would go have gone in on an after-tax basis. One way to generate revenue to help offset the cost of tax cuts would be to drop the limit even lower -- to below $3,000 -- Iwry said.
"These numbers move around a lot in the last stages of the legislative process," said Iwry. "Deals are made in the last minute."
Before it's here, it's on the Bloomberg Terminal.
LEARN MORE