Trump Bank Regulator Faces Inquiry Into Legality of Job Status
By and
Treasury inspector general to review acting OCC chief Noreika

Noreika lashes out at Democrats who prompted the examination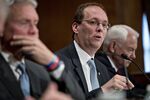 The Treasury Department's independent watchdog has begun reviewing whether a top Wall Street regulator is improperly holding on to his job, as the official under scrutiny lashed out at Democratic lawmakers who prompted the examination.
Treasury Inspector General Eric Thorson has opened an "inquiry" into whether Keith Noreika's unusual employment status has expired, making him ineligible to remain acting chief of the Office of the Comptroller of the Currency, Thorson's office confirmed Thursday.
In a letter sent earlier this week, Senator Chris Van Hollen and five other Democrats on the Senate Banking Committee asked Thorson to investigate whether Noreika had overstayed the 130-day limit on any person hired as a "special government employee." The Treasury used the designation to install the former bank lawyer atop the OCC in May without Senate confirmation.
Noreika declined to comment on the inspector general's review. At a conference in Washington earlier Thursday, he pushed back at the lawmakers' contention that he should have left the OCC by Sept. 12.
Staying Put
"You're stuck with me until they get around to doing their job in confirming my successor," Noreika said at the event at Georgetown University's law school. He added that the 130-day limit was meant to be working days, which wouldn't expire until next month. 
President Donald Trump in June nominated Joseph Otting, who led OneWest Bank when Treasury Secretary Steven Mnuchin was its chairman, to take over the OCC. Otting is still awaiting Senate approval.
"Clearly, Mr. Noreika has no interest in abiding by the ethics rules," Van Hollen, of Maryland, said in a Thursday statement to Bloomberg News. "As a regulator of the largest banks and financial institutions in our country, we must ensure that the comptroller of the currency is in compliance with the law."
Rich Delmar, a counsel to Thorson, said the inspector general's office was conducting the inquiry in response to the senators' request. Massachusetts Democrat Elizabeth Warren, a top critic of the finance industry, was among lawmakers who signed the letter to Thorson.
Technical Label
Special government employee is a technical label typically used to hire outside specialists who serve in temporary roles. Noreika noted Thursday that status was once held by Huma Abedin, who worked for Hillary Clinton at the State Department during the Obama administration.
Noreika has previously drawn criticism from Democrats for sidestepping Senate vetting, as well as avoiding ethics requirements that other Trump administration appointees must follow. They've also complained that he embodies the revolving door between industry and government, pointing out that the lawyer went directly from representing banks to overseeing them.
As OCC chief, Noreika has pledged to recuse himself from matters involving dozens of clients, including 14 lenders that the agency regulates. He has said he is following all applicable ethics guidelines while he keeps the seat warm for Otting.
He said Thursday that he plans to return to the private sector, though he also said he'll have to see "what the president has in store for me." If he leaves government service, Noreika said he'll be subject to "all the post-employment restrictions that everyone else is."
Before it's here, it's on the Bloomberg Terminal.
LEARN MORE