technology
A Major Backlash Is Brewing Against Big Tech. Here's Why Investors Don't Care
By and
Facebook, Alphabet, Microsoft shares hit new records this week

Ads, cloud and iPhones bewitch analysts, not antitrust talk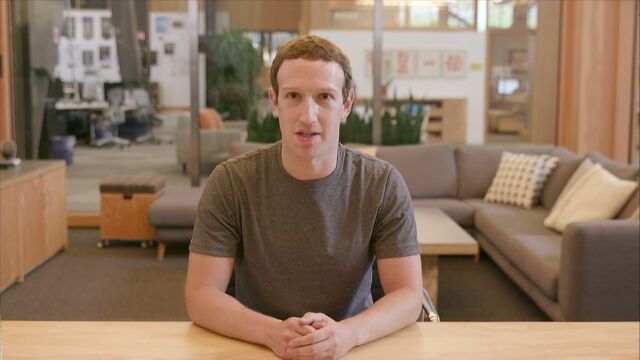 Facebook Inc. and Google are being blamed for helping Russia get Donald Trump elected, and there are calls to restrict their growing influence. Amazon.com Inc. is being forced to get customers to pay more sales tax. The Chinese government refuses to use Microsoft Corp.'s latest Windows offerings, and Apple Inc. faces a 13 billion euro tax bill.
Everywhere you look, tech regulatory risk abounds. Yet aside from today's industry-wide selloff, investors aren't losing sleep. Shares of Facebook, Google parent Alphabet Inc. and Microsoft hit new records this week while Amazon and Apple are close to all-time highs. They occupy the top five spots in the ranks of the largest U.S. companies by market capitalization. Up 34 percent this year, the $800 billion they've added in value almost equals the combined worth of the biggest five companies at the bottom of the bear market in 2009. 
In a low-growth world, many investors can't resist companies with some of the strongest sales growth powered by technology that's expect to become an even bigger part of people's lives. And they're either ignoring or discounting attempts by governments and politicians to rein in the companies.
"The nebulous headline risk of potential regulation that may or may not be impactful is not enough to move us off a tremendous fundamental growth story," said Chris Armbruster, an analyst at investment firm Kayne Anderson Rudnick, which oversees more than $15 billion. The firm owns shares of Facebook, Amazon and Google. "Their businesses are tremendously strong, even at the scale they're operating."
According to Goldman Sachs research, the five are growing about five times faster than the average S&P 500 company and are twice as profitable. Amazon's meager profit margins are the anomaly of the group, but it typifies investors' thirst for growth. The company has posted double-digit sales gains for more than 20 years, winning shoppers by offering huge selection, affordable prices and fast, convenient delivery.

Amazon's recent purchase of Whole Foods pushes it deeper into the $800 billion grocery industry, leaving room for more growth. Its profitable and fast-growing cloud computing division gives Amazon cash to keep funding low prices and expensive conveniences like one-hour delivery.
For Armbruster and other investors, most of the regulatory scrutiny isn't threatening. The companies have leadership positions in their markets but they're not monopolies, according to Sid Parakh, a fund manager at Becker Capital Management. That makes them a lot less susceptible to big breakups or other cataclysmic wing-clipping.
"There isn't a compelling antitrust case to make for any of these companies," said Parakh, who owns Microsoft and Apple shares as part of the $3.7 billion his firm oversees. "There are regulatory headwinds, and they may end up paying billions in fines, but it's not going change the long-term trajectory."
Tech stocks took a bit of a hit on Thursday after a report in a Taipei newspaper said orders for the iPhone 8 models have been cut for the rest of the year amid a lukewarm reception. That sent Apple down as much as 2.8 percent, leading the S&P 500 Information Technology Index toward its biggest drop in three weeks. Apple accounts for 16 percent of the index by weight. Facebook and Google and Amazon were down about 1 percent while Microsoft was little changed.
Microsoft was hurt by an antitrust crackdown in the 1990s, but its move into cloud computing hasn't prompted similar scrutiny. Amazon Web Services leads the field, and Google is a contender.
"They do understand the power of the courts and the value of lobbyists," said Kim Forrest, an analyst at Fort Pitt Capital Group, which owns Microsoft shares. "But Microsoft is not dominant in the cloud, yet. Our belief is that they will gain market share."
Microsoft's Azure cloud business almost doubled in the most recent quarter as large firms pay to store data and run programs in the company's data centers.
Google and Facebook's growth depends on the ability to keep advertisers paying for access to their enormous audiences. Even as some politicians express concern that both platforms have been misused and say the companies horde too much sensitive consumer data, the ad money keeps rolling in.
Facebook is a couple years into making money from Instagram, the popular photo-sharing app, and it has two chat apps with more than 1 billion users -- WhatsApp and Messenger -- that have yet to be turned into real businesses. Meanwhile, spending on Google's main search ads and its YouTube video ads continue to grow.
For Becker Capital's Parakh, the reason for this sustained growth is simple. While consumers are concerned about about online privacy, that hasn't curtailed use of Facebook and Google services because they're so important for daily life now.
Still, regulatory risks are rising for the industry, according to Strategas Research Partners, which counts how many times companies talk about these issues in filings to the Securities and Exchange Commission. Today, this measure for the tech sector is more than double 2005 levels.

The big five don't need to look far for an example of how badly things can go when regulators really crack down on a tech company. Qualcomm Inc., once the largest publicly traded semiconductor maker, has shed $21 billion in market value this year as regulators around the world investigate its business practices and, in some cases, levy record fines.
Some proposed government action may actually help the sector, though. The Trump administration's push for lower tax on the repatriation of overseas profit would help the biggest tech companies most. The IT sector has $633 billion stashed outside the U.S., according to Goldman Sachs.
Apple has more than $200 billion parked overseas -- dwarfing the 13 billion euros that European Union regulators argue it owes Ireland. But investors are more interested in an expected sales surge when its new flagship iPhone X goes on sale Nov. 3. Analysts see total Apple sales in the holiday quarter jumping 10 percent to $87 billion.
— With assistance by Mark Bergen, Spencer Soper, Alex Webb, Dina Bass, and Sarah Frier
Before it's here, it's on the Bloomberg Terminal.
LEARN MORE