Business
Some Famously Efficient Japanese Manufacturers Are Now Lying to Compete
It's the latest sign of how desperate these companies have become to stay ahead of Chinese and other foreign competitors.
By , , and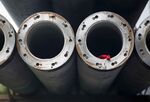 Japanese manufacturers were once held in awe for their mastery of flexible manufacturing and a continuous improvement mantra that revolutionized business practices the world over. Even now, for example, Fanuc remains the preeminent maker of sophisticated robots, sought by manufacturers from China to the U.S. But an increasing number of companies in China, South Korea, and elsewhere have found success emulating—and often besting—Japan's long-established enterprises, forcing them to scramble.
The latest sign of just how desperate many Japanese companies have become to stay ahead of foreign rivals: Kobe Steel Ltd.'s admission this month that for years it has faked data on the quality of its aluminum, copper, and steel products. Those metals have been used in high-precision products made by hundreds of Kobe's customers, including cars from Toyota Motor Corp. and bullet trains from Hitachi Ltd. Now Kobe Chief Executive Officer Hiroya Kawasaki is leading an internal committee to probe quality issues. And the U.S. Department of Justice has requested that Kobe Steel submit documents related to the fake data, the company said, adding that it will cooperate.

Unfortunately for Japan Inc.'s reputation as a trusted supplier, such revelations have repeatedly commanded headlines, from Takata's long-ignored exploding air bags to Nissan Motor's fake safety inspectors to Mitsubishi Motors' fudged fuel efficiency data. Japan obviously doesn't have a monopoly on corporate shenanigans, but fraud is particularly costly for the nation because its flagship manufacturers have banked for years on a reputation for quality, says Nicholas Benes, a representative director of the Board Director Training Institute of Japan, which offers courses on corporate governance for executives. "Japanese manufacturers are very aware that their brand, their reputation, the sustainability of their businesses rest on quality," he says.
Two overarching factors seem to be pushing the nation's manufacturers to cross the line. First, Japanese companies face unrelenting pressure from upstart Chinese rivals. Second, a whistleblower protection law passed in Japan in 2006 has increased the odds of wrongdoing coming to light—and the digitization of records and internal conversations has made it easier for incriminating data to be passed along to regulators or authorities.
Kobe faces a double whammy from China churning out cheaper commodity steel and big automotive customers demanding products that weigh less yet retain strength and versatility. Whether a car has a 300-kilogram gasoline engine under the hood or a 300kg lithium ion battery, about two-thirds of the weight of most vehicles is still steel. So many metal makers continually look for an edge against one another, and a growing number of outsiders pitch lighter-weight plastics as alternatives. "The steelmakers are really trying to protect their turf, because this is a life-and-death situation for them," says Thanh Ha Pham, an analyst at Jefferies Japan Ltd. "It's improve or die."

Since Prime Minister Shinzo Abe took over in 2012, there's been a concerted push to improve corporate governance in Japan. But rather than stepping up policing of bad behavior, the focus has mainly been on bolstering financial accountability to stockholders. That's one reason share buybacks and dividends have surged.
So have scandals. Since a $1.7 billion accounting fraud was uncovered at medical equipment maker Olympus Corp. in 2011, the number of improper accounting cases unearthed each year at publicly traded companies has almost doubled.
Japan became famous for breakthroughs in manufacturing, where its factories continually cut costs—even by a few cents—through advances in production, automation, and supply chain management. But with competition from lower-cost rivals, those companies are under pressure to supply more, better, and faster parts.
"The world is now far more competitive … and the Japanese have lost many opportunities and contracts just based on being too expensive," says Landry Guesdon, an attorney at Tokyo-based Iwata Godo. "So quality has come down for certain products. You try to cut corners, cut costs."

The spotlight has taken a toll on Kobe Steel, Japan's third-largest steelmaker, whose customers include Ford Motor Co. and Boeing Co. Its market value of $2.7 billion is about $1.7 billion less than before it admitted to the fake data. It's not alone in feeling financial pain from corporate malfeasance: The share price of Mitsubishi Motors Corp., which came under fire in 2015 after it was revealed that it manipulated fuel economy data for its vehicles, only recently surpassed its prescandal level. And Takata Corp. filed for bankruptcy in June, succumbing to the fallout from more than a dozen deaths linked to its faulty air bags.
But as the flak over Kobe's behavior expands, Japan's reputation for excellence may be the bigger loser. Japan Credit Rating Agency Ltd., which has an A grade for Kobe Steel, five levels above junk, said on Oct. 13 that risks are growing and that it's watching whether customers will move to recall products containing the company's materials and demand compensation.
The scandal "at the very least removes some of the ability of Japanese companies to have premium pricing," says Alexander Robert Medd, managing director at Bucephalus Research Partnership Ltd. "You don't buy Japanese goods because they are cheap. The whole thing is because of quality." —With Masumi Suga and Ichiro Suzuki
(
Corrects customers listed in the chart after the second paragraph.
)
BOTTOM LINE -
Kobe Steel's scandal over fake quality data is the latest example of how some competition-pressed Japanese companies are bending the rules.
Before it's here, it's on the Bloomberg Terminal.
LEARN MORE