Putin Harangues West for Lack of Respect, Broken Trust
By
Speech sets out undeclared campaign for 2018 re-election bid

Jack Ma offers help with Russia's technological advance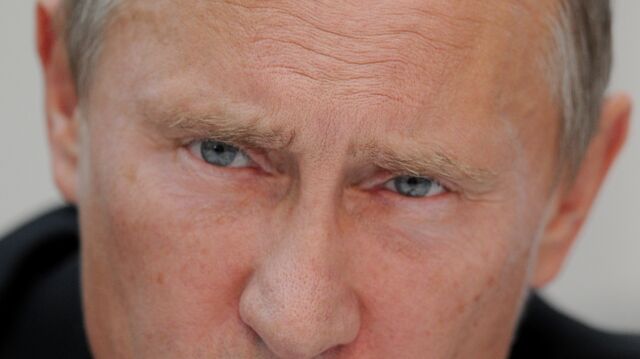 President Vladimir Putin has yet to declare his candidacy for re-election next year, but on Thursday the outlines of his campaign were clear, beginning from his strongest suit as the man who restored power and respect to Russia.
Putin spent much of his address to an annual gathering of foreign-policy specialists from Russia and abroad recounting his country's perceived humiliation following the collapse of the Soviet Union, singling out the West and the U.S. for special criticism.
"The biggest mistake our country made was that we put too much trust in you; and your mistake was that you saw this trust as a lack of power and you abused it,'' he said during a question-and-answer session that was carried on national television. What was needed, he said, was "respect.''
In its portrayal of the U.S., "it was the most negative speech Putin has given'' at the annual Valdai Club meeting, said Toby Gati, a former U.S. National Security Council and State Department official who is a regular at the event. At the same time, the Russian leader appeared to leave a door open to a rapprochement with U.S. President Donald Trump, saying that he, too, deserved respect as the elected choice of the American people, even if his policies have fueled uncertainty.
Trump's Unpredictability
"His unpredictability is linked not just to him but also to the fact that he faces great opposition within the country," Putin said. "He's practically not allowed to fulfill a single one of his campaign promises."
Yet the session was directed more at a domestic than a foreign audience.
Putin devoted much of his speech to recounting perceived slights that Russia endured in the 1990s, a time when the nation's economy and military were in a state of collapse.
Read about alarm in Russia as the U.S. becomes the unpredictable superpower
The U.S., he recalled, stationed permanent monitors at one of Russia's most secret nuclear facilities to ensure that an agreement to neutralize weapons-grade nuclear fuel was implemented. The U.S., he said, did not give similar access in return. 
He also repeated a claim he made earlier this year that the U.S. supported Islamist extremists in Chechnya during a bloody war in Russia's Caucasus region. And he cited the North Atlantic Treaty Organization's 1999 bombing of Belgrade, as it sought to expel Serbia's military from Kosovo, without United Nations Security Council approval and over Russian objections.
When Putin began talking about a later Western decision to endorse Kosovo's unilateral declaration of independence from Serbia, he read from a ruling in favor of Kosovo's claim by the International Court of Justice in The Hague. The court, he said, had been pressured by Western governments.
Even during the Cold War, the U.S. and the Soviet Union had always treated each other with respect, said Putin, lamenting how the Russian flag was recently torn from the country's consulate in California.
'Underbelly' of Respect
"Respect has been the underbelly of the whole conference,'' said Wendell Wallach, chairman of technology and ethics studies at Yale University.
Other parts of Putin's election strategy were also on display at Thursday's carefully choreographed session, according to Evgeny Minchenko, a political consultant attending the forum. Sharing the stage with Putin in Sochi was Jack Ma, the founder and chairman of China's Alibaba Group Holding Ltd. Ma delivered a motivational speech on the future benefits of technology and offered to "join in the development of the Russian economy.''
Putin will make a high-profile push to digitize the Russian economy as a key plank in his election campaign, Minchenko said. A second campaign message will be government renewal, replacing longer-serving officials with a younger cadre, both in the administration and regional governorships. Some governors have already been replaced. 
Meanwhile, fierce competition is under way to lead the effort to digitize the economy in a new government, according to Minchenko. Two of the three contenders he listed -- Sberbank of Russia Chief Executive Officer Herman Gref and First Deputy Prime Minister Igor Shuvalov -- addressed the Valdai Club forum this week.
"I'm pretty sure Putin is going to run,'' said Minchenko, echoing a widespread assumption that the 65-year-old Russian president will seek re-election in March. Few attending this week's conference are expecting much of a contest.
— With assistance by Ilya Arkhipov
Before it's here, it's on the Bloomberg Terminal.
LEARN MORE