OPEC Sends Strongest Signal That Cuts May Extend to End of 2018
By , , and
Group takes Putin comments about extension 'very seriously'

Russia, Saudis leading talks to prepare for Nov. 30 meeting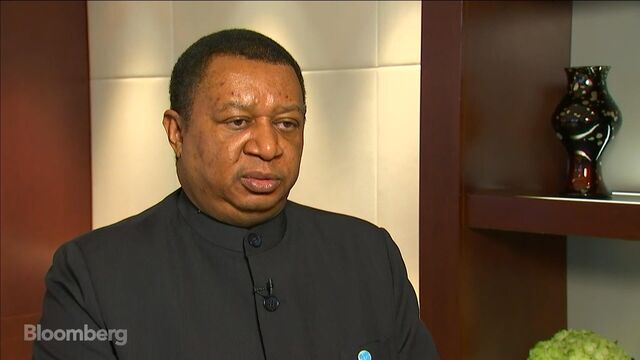 OPEC sent its strongest signal yet that output cuts will be extended until the end of 2018, saying negotiations are taking their lead from Vladimir Putin's tentative backing for a further nine months of curbs.
If the Organization of Petroleum Exporting Countries and allies including Russia decide they need to extend their supply deal, it should be done at least until the end of next year, the Russian President said in Moscow on Oct. 4. That statement is the basis for talks ahead of next month's OPEC gathering, led by Russian Energy Minister Alexander Novak and his Saudi counterpart Khalid Al-Falih, said OPEC Secretary-General Mohammad Barkindo.
The comments signal not only the growing chance of an extension of the cuts, but also how far Russia and Saudi Arabia, two countries that haven't been close historically, are working together to lift oil prices. King Salman visited the Kremlin earlier this month -- the first visit by a Saudi monarch to Russia.
Putin "gave a very pointed answer, which we are taking very seriously," Barkindo told reporters at the Oil & Money conference in London. "Khalid Al-Falih is on tour of some of our member countries to build consensus. Mr. Novak is also in extensive consultations with non-OPEC."
OPEC and its allies are scheduled to meet in Vienna on November 30.
The 24 oil-producing nations that agreed to cut production last year, initially for a six-month period, have already extended their deal once -- by nine months until the end of March 2018.
OPEC is pushing for more output restraint as it begins to harvest the fruits of its current policy. Barkindo said that a balanced market is now "in sight," but with OPEC's own internal forecasts indicating the glut won't be fully eliminated until the third quarter of next year, speculation has increased that the group would prolong its curbs further.
While oil prices have risen to near $60 a barrel and the physical market has improved, traders and analysts are still painting a cautious outlook for next year due to forecasts for rising output from the U.S., Brazil and Kazakhstan.

Oil prices plunged in late 2014 from more than $100 a barrel to less than $30 a barrel last year after Saudi Arabia imposed a pump-at-will policy to recover market share. Riyadh later reversed course, returning to the old system of cutting production to lift prices.
"There is no doubt that the market is re-balancing at an accelerating pace; stability is steadily returning; and there is far more light at the end of the dark tunnel we have been traveling down for the past three years," Barkindo told the Oil & Money conference.
Since Putin's intervention, representatives of Iran, Angola and Algeria have indicated their willingness to extend the cuts. If oil producers want to re-balance the market, they should continue their cuts, Fatih Birol, executive director of the International Energy Agency, said in an interview last week.
While Barkindo said it was premature to talk about what consensus might emerge from the preparations for Nov. 30, he gave an upbeat assessment of the group's production cuts. The oil inventory surplus in industrialized nations compared with the five-year average has fallen below 160 million barrels, less than half the level at the start of the year. The skeptics who said the deal wouldn't work have been proved wrong, he said.
"We are satisfied that the mechanism and the strategy are all working," Barkindo said in an interview with Bloomberg television. "We are satisfied that the way forward is to sustain what is working."
Before it's here, it's on the Bloomberg Terminal.
LEARN MORE