Jacinda Ardern Set to Become World's Youngest Female Leader
By and
37-year-old's rise draws comparisons with Macron, Trudeau

Labour leader to form government after striking coalition deal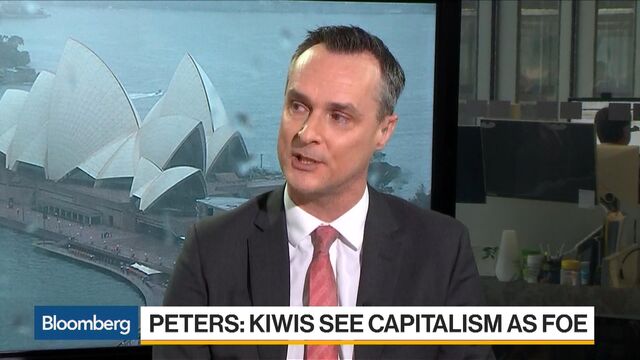 The 37-year-old daughter of a New Zealand police officer is set to join a new generation of leaders overturning the political establishment in some of the world's most-developed countries.
Jacinda Ardern will become the world's youngest female leader after cutting a deal to form a coalition government in New Zealand. Her swift rise to power, less than three months after taking the reins of the struggling Labour Party, has drawn comparisons with the generational shift seen in Austria, Ireland, Canada and France.
"There has been a total reorientation to politics by the public since the global financial crisis," said Bryce Edwards, a political scientist at Victoria University in Wellington. "They are no longer bound by the idea that politicians need to have experience, or age or strong credentials."
Read more: What economists and the markets think of Ardern's rise
Ardern has electrified supporters since becoming Labour leader on Aug. 1, stirring up what the media dubbed "Jacinda-mania" as she pledged to tackle social issues such as child poverty and affordable housing. She transformed the center-left party's poll ratings, which had slumped to 24 percent, roughly half of outgoing Prime Minister Bill English's National Party.
Although Labour finished second in the Sept. 23 election, National failed to secure a majority -- leaving both needing the backing of the New Zealand First party to take office. After 12 days of negotiations, the small, nationalist party's leader Winston Peters threw his support behind Ardern, saying that capitalism needed to regain its "human face."
The local currency dropped to a five-month low Friday, amid concerns the new government's policies, such as a potential cut in immigration, may curb economic growth. The kiwi traded at 69.93 U.S. cents at 5:02 p.m. in Wellington -- near its lowest level since May 24. Stocks also dropped as much as 1.2 percent in early trading although the S&P/NZX 50 Gross Index recovered to close slightly higher, extending a winning streak to 14 days.
Curbing Immigration
Even though New Zealand's economy has grown strongly under National, which returned the budget to surplus, Ardern has argued that too many people have been left behind during the party's three terms in office. Labour and New Zealand First both campaigned on reducing immigration, more home construction and increasing payments to low-income families in lieu of planned tax relief.
"When you are a hands-off government, where you simply allow the market to decide the fate of your people, then that does not serve a country or its people well, and that's what we've seen over the past nine years," she told reporters in Wellington Friday. "You will see a very pro-active government led by Labour."
The Labour caucus met Friday to discuss the agreements with New Zealand First and the Greens that saw Ardern oust a three-term National Party-led government. It named 21 members who will be ministers alongside seven from its smaller partners. Ardern will allocate portfolios over the weekend, and expects the new cabinet to be sworn in Oct. 26, she told reporters.
Details of final policies will be announced next week, though Ardern said her campaign pledges for Labour's first 100 days in office were "pretty much intact."
Ex-Mormon DJ
Ardern takes Labour into office for the first time in nine years, with her coalition controlling 63 of 120 seats in parliament. No party has won an outright majority since New Zealand introduced proportional representation in 1996.
Ardern provided a lightning rod for dissatisfaction with the status quo. While the economy grew at 2.5 percent in the year through June, there is mounting disquiet about the widening gap between rich and poor. One in five Kiwi children live in households with incomes below the poverty line and 8 percent face severe material hardship, according to the Salvation Army.
Her rise suggests an appetite for generational change, as was the case with Emmanuel Macron in France and Justin Trudeau in Canada, who has already tweeted his congratulations to Ardern. She'll be New Zealand's youngest leader since 1856.
'Socially Liberal'
Ardern was brought up a Mormon but later left the church. Known to DJ at local music events, Ardern calls herself "a socially liberal person." She will replace English, 55, a practicing Catholic with six children and conservative social views, and who's been in parliament since Ardern was 10 years old.
She lives with her boyfriend, and had previously said she wouldn't seek the party leadership because she wanted to have children. Asked again about motherhood just hours after becoming the Labour leader, Ardern won plaudits from supporters and opponents alike, saying it's a dilemma that many women face and "you've just got to take every day as it comes."
However, it was "totally unacceptable in 2017 to say that women should have to answer that question in the workplace," she said.
As a student, Ardern developed an early social conscience after noticing some children arrived at school without shoes or anything to eat for lunch.
"Though I was very young, I still have very clear memories of seeing things that just struck me as being unfair," Ardern said in an interview after becoming Labour leader. "Things like that, I would say, probably sparked my interest in politics."
After a stint working for Prime Minister Helen Clark in 2005, Ardern went abroad, working briefly in a soup kitchen in New York before spending several years in London as a civil servant during the final years of Tony Blair's premiership. She returned to New Zealand and entered parliament at the 2008 election, which Clark lost.
Labour had been in turmoil ever since, changing leaders five times in nine years and slumping to its worst defeat since 1922 at the previous election.
"We have been gifted by the people of New Zealand an opportunity, and it is for us to make the most of that," Ardern told her caucus. "I believe that this will be a government of change, it will be a government we can be proud of, and this will be a moment in time that all of us can look back on with a sense of immense pride."
— With assistance by Matthew Brockett
Before it's here, it's on the Bloomberg Terminal.
LEARN MORE