Merkel Seeks to Cut Turkish Accession Funding
By and
Chancellor cites German concerns over crackdown on democracy

EU funding for EU-Turkey accord over refugees should stay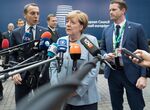 German Chancellor Angela Merkel said the European Union may cut pre-accession funding to Turkey as a response to the country's crackdown on its democratic institutions, while insisting that the bloc should strive not to cut all ties with Ankara.
Speaking at a two-day meeting of EU leaders in Brussels, Merkel said consensus has been reached to cut back "responsibly" on the 4.5 billion euros ($5.3 billion) in aid allocated to Turkey's bid to join the 28-member bloc. The funds the EU pledged as part of a refugee accord with Turkey should stay in place, she said. 
"There are a lot of worries, if I can sum it up that way," Merkel said. "But in the final assessment, there's also the wish not to burn all our bridges, but to remain in contact with Turkey."
While no concrete decisions on Turkey had been expected at the summit, an understanding among leaders emerged on the need to curb the accession funds. Merkel's move fits with a campaign pledge to potentially suspend enlargement negotiations while the government of Turkish President Recep Tayyip Erdogan clamps down on opposition figures and journalists.
We tasked the European Commission "to reflect on whether to cut and re-orient
pre-accession funds," European Council President Donald Tusk said on Friday after the meeting. "We want to keep the door open to Ankara, but the current reality in Turkey is making this difficult."
Rights, Obligations
The EU offers so-called pre-accession assistance to countries seeking to join the bloc, meant to help bolster the nation's capacities and prepare them for the rights and obligations of membership. The EU has dedicated 11.7 billion euros to this funding between 2014 and 2020, 4.5 billion euros of which has been allocated to Turkey.
Turkey, which has been seeking to join the EU since the 1980s and began accession negotiations in 2005, has jailed dozens of journalists and opposition politicians and dismissed thousands of judges, prosecutors, police and academics in response to a failed coup attempt last year.
At the same time, Merkel credited Turkey with doing a "huge amount" to help stanch the flood of refugees making their way from Syrian civil war and beyond into Europe. An EU-Turkey accord that pledges funds to Turkey as well as the prospect of visa-free travel has helped stop the flow of migrants from Turkey across the Aegean Sea into Greece. 
"We should stand by this obligation, because these funds go to help refugees, who are in part living in very difficult conditions," Merkel said.
— With assistance by Ian Wishart, Tim Ross, Dara Doyle, Nikos Chrysoloras, John Follain, Gregory Viscusi, Ewa Krukowska, Stephanie Bodoni, Marine Strauss, and Lyubov Pronina
Before it's here, it's on the Bloomberg Terminal.
LEARN MORE