Merkel and Macron Have Spain's Back as Catalan Crisis Escalates
By and
EU member states see 'no room' for international action: Tusk

Spain to trigger Article 155 to regain control of region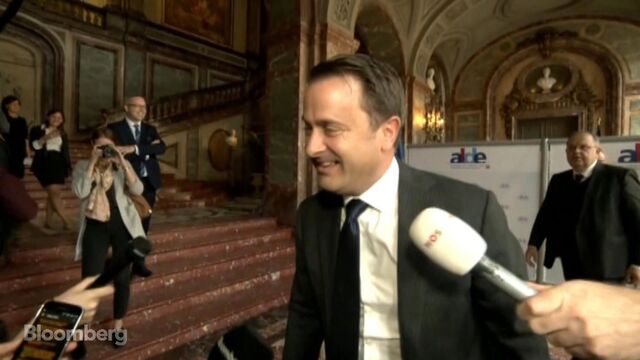 European Union leaders offered their support for Spanish Prime Minister Mariano Rajoy as he prepares to suspend the powers of the Catalan administration, and ruled out the possibility of outside intervention to resolve the rapidly escalating conflict.
EU chiefs attending a summit in Brussels Thursday said they backed Madrid and stressed that the issue of Catalonia's push for independence was a domestic legal matter for Spain alone.
"There's no hiding that the situation in Spain is concerning," European Council President Donald Tusk told reporters after the first session of discussions. "Institutions and member states are clear that there's no room, no space for any kind of mediation or international initiative or action."
Read more: Understanding the fight over Catalonia -- a QuickTake explainer
Spain issued a statement on Thursday morning invoking Article 155 of the Constitution "to restore the legality" of the semi-autonomous government after regional President Carles Puigdemont refused to shelve his claim for independence. Puigdemont cites a referendum in the region on Oct. 1 as giving the separatist cause legitimacy, even though it was conducted in breach of Spain's constitution.
Merkel Preoccupied
"We're looking at this very closely and support the position of the Spanish government, which is also a position that's been adopted across parties," said German Chancellor Angela Merkel. "Of course this preoccupies us, and we hope that there can be a resolution on the basis of the Spanish constitution."
Asked whether he supported the Spanish government, French President Emmanuel Macron said "always," adding that "this summit will be marked by a message of unity of its members in regards to Spain."
The EU has said it won't recognize Catalonia if it attempts to split from Spain and that it would no longer be a member of the bloc. Rajoy, who has rejected Puigdemont's calls for dialogue until he comes back within the law, said nothing as he arrived in Brussels.
Raising Stakes
Spain needs "a diplomatic and political" solution to resolve the matter, Luxembourg Prime Minister Xavier Bettel said. "There is a law and the law should be respected."
Belgium's Charles Michel, who has his own separatist movement to contend with, was the most conciliatory toward the Catalans, condemning violence and calling for dialogue. "I don't think raising the stakes is a good thing," he told reporters.
Others were more reluctant to comment, saying it was an issue for Spain alone.
Dutch Prime Minister Mark Rutte said "this isn't an EU matter," when asked to comment on Catalonia. "It's an internal Spanish matter."
Federica Mogherini, the EU's foreign affairs chief, opted to avoid the issue, saying the situation in Spain is "definitely not foreign policy."
Tusk said he didn't expect any "discussion or debate" on Catalonia at the two-day summit.
"It's not on our agenda," he said. "We have all, of us I think, our own emotions, opinions, assessments, but formally speaking there's no space for EU intervention here."
— With assistance by John Follain, Stephanie Bodoni, Gregory Viscusi, Nikos Chrysoloras, Tim Ross, Ian Wishart, Dara Doyle, Ewa Krukowska, Marine Strauss, Lyubov Pronina, and Patrick Donahue
Before it's here, it's on the Bloomberg Terminal.
LEARN MORE