Liberia Vice President, Ex-Football Star Head to Runoff Vote
By
Former A.C. Milan player Weah wins most votes, Boakai second

Runoff on Nov. 7 to determine Ellen Johnson Sirleaf successor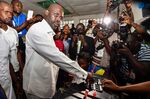 Liberia's soccer star turned politician George Weah and Vice President Joseph Boakai will face each other in a runoff vote for the presidency next month after neither candidate secured a majority needed for an outright win.
Weah had 38.4 percent of the votes in the Oct. 10 election, while Boakai got 28.8 percent with all ballots counted, Jerome Korkoya, chairman of the National Elections Commission, told reporters on Thursday in the capital, Monrovia. Weah received the most votes in 11 of Liberia's 15 counties in the election in which the turnout was about 1.6 million of the 2.2 million registered voters, Korkoya said.

The runoff will be held on Nov. 7, Korkoya said.
Weah, a 51-year-old former A.C. Milan soccer player, is hugely popular among young people and has campaigned on promises to fight corruption. Boakai, 72, is seen as someone who will guarantee peace and continue the work of the outgoing government, including improving the electricity supply. The winner will succeed President Ellen Johnson Sirleaf, who's due to step down early next year.
Weah's 'To Lose'
The second round is Weah's "to lose," Julius Kanubah, a political analyst based in Uppsala, Sweden, said in emailed comments. "Boakai can still make ground but it will require some miracle or miraculous intervention to really achieve this."
The election could be the first to mark a transfer of power from one elected president to another in more than half a century. The West African nation in 2003 emerged from a civil war that lasted more than a decade and left an estimated 250,000 people dead. Today, Liberia is still one of the most impoverished countries in Africa, with remittances accounting for 31 percent of gross domestic product, the highest rate on the continent and one of the highest worldwide, according to World Bank data.
"I love George Weah as a football legend, but electing him as president of Liberia will be the biggest disaster in the history of our country," Deddeh Taylor, 26, a third-year student at the African Methodist Episcopal University, said about the runoff. "He's unprepared and does not have the ability to lead this great and complex country."
Before it's here, it's on the Bloomberg Terminal.
LEARN MORE