Kelly Defends How Trump Handled Call to Slain Soldier's Family
By and
White House chief of staff said he advised against phone calls

Retired Marine general's son was killed in Afghanistan in 2010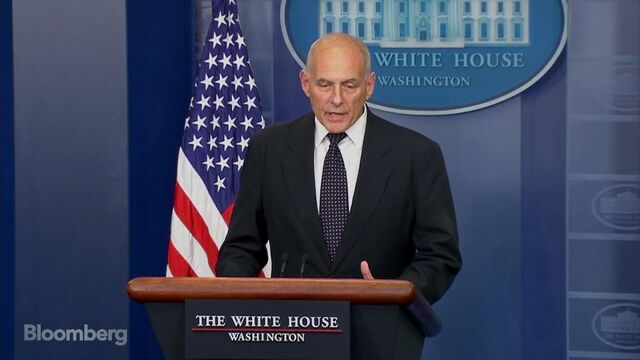 White House Chief of Staff John Kelly, a retired Marine Corps general who lost a son in combat, gave an emotional defense of how President Donald Trump handled a call to the widow of a soldier killed in Niger and assailed a Democratic congresswoman for listening in and disclosing the conversation.
Kelly, speaking in very personal terms at Thursday's White House briefing, said he initially had recommended that Trump not call families of fallen soldiers since "it's not the phone call that parents, family members are looking forward to."
"If you have never worn the uniform, if you have never been in combat, you can't imagine how to make that phone call," Kelly said. "He very bravely does make those calls."
When Trump had asked for guidance about what to say, Kelly said he recalled what his best friend, Marine General Joseph Dunford, told him after Kelly's son, also a Marine, was killed in Afghanistan in 2010: "He was doing exactly what he wanted to do when he was killed. he knew what he was getting into by joining that one percent."
"That's what the president tried to say to the four families," said Kelly, who was present when Trump made the calls, implicitly confirming an account of the call that Trump has denied. 
Kelly said he was "broken-hearted" when he learned that Representative Frederica Wilson had listened to Trump's call to the widow of Army Sergeant La David T. Johnson and described it publicly.
"It stuns me that a member of Congress would have listened in on that conversation," Kelly said. "Absolutely stuns me. I thought at least that was sacred."
Visit to Arlington
Kelly said he was so upset after he heard her remarks that he took a walk among the tombstones at Arlington National Cemetery. 
"The only thing I could do to collect my thoughts was to go and walk among the finest men and women on this Earth," he said. "I went over there for an hour-and-a-half, walked among the stones, some of whom I put there, because they were doing what I told them to do when they were killed."
Wilson, a Florida Democrat, said on MSNBC that she was in a car with Myeshia Johnson, the soldier's widow, when Trump's call came and listening to it on speakerphone. She described the president's manner as disrespectful.
"He was almost like joking," Wilson said. "He said, 'Well I guess you knew he,' something to the fact that 'he knew what he was getting into when he signed up, but I guess it hurts anyway.'"
The soldier's mother, Cowanda Jones-Johnson, who was also present for the call, backed up the congresswoman's account.
Jones-Johnson told The Washington Post that Trump told Myeshia Johnson her husband "must have known what he signed up for." She said Trump "did disrespect my son and my daughter and also me and my husband."
Trump on Wednesday denied Wilson's account of the call. "I didn't say what that congresswoman said. Didn't say it at all." However Kelly didn't contradict her version or say what words Trump used. The president "expressed his condolences in the best way that he could," Kelly said.
The president continued his attacks on Wilson on Twitter Thursday night, calling her "wacky."
"The Fake News is going crazy with wacky Congresswoman Wilson(D), who was SECRETLY on a very personal call, and gave a total lie on content!," Trump said in a tweet.
'Sacred' Sacrifice
Calling Wilson's behavior "selfish," Kelly made a plea to keep the sacrifices of service members from being a political debate. "Let's try to somehow keep that sacred," he said.
Trump ignited the controversy on Monday after he was asked at a news conference why he hadn't said anything publicly about the four soldiers who were killed in Niger when they were ambushed almost two weeks earlier. The president said he would write the families and planned to call them. He then contended that most of his predecessors didn't make such calls, a claim disputed by allies of former presidents Barack Obama and George W. Bush.
He followed that up in an interview with Fox News Radio with the suggestion that Obama never called Kelly after the death of his son.
Kelly, who rarely speaks about his son's death in public, said Obama didn't call him when his son, Marine 2nd Lieutenant Robert Kelly, was killed by a roadside bomb. But he emphasized "that was not a criticism."
"That was just to simply say, I don't believe President Obama called. That's not a negative thing," Kelly said. "I don't believe President Bush called in all cases. I don't believe any president, particularly when the casualty rates are very, very high, that presidents call."
Gold Star Families
Kelly's son died in a year when U.S. casualties in Afghanistan were at a peak, with 499 service members killed in 2010. Obama did hosted Kelly and other Gold Star families -- those who have lost a relative in combat -- at a breakfast, the Associated Press reported, citing White House visitor logs.
Wilson responded in an interview with Politico shortly after Kelly's appearance at the briefing, saying the chief of staff was "trying to keep his job."
"He will say anything," Wilson said. "There were other people who heard what I heard."
Wilson didn't respond to calls and emails to her office.
Kelly avoided directly answering many questions about the operation in Niger that led to the four U.S. casualties, saying American forces are engaged around the world. He said the operation was under investigation by the Pentagon to find out what happened and why.
Amid criticism that the U.S. special forces were left vulnerable to attack by terrorists, Defense Secretary Jim Mattis told reporters at the Pentagon Thursday that contact with hostile forces in Niger was "considered unlikely."
He said the attack reflected "the danger our troops face in these counter-terrorist campaigns" that are conducted "by, with and through allies." He said the French have 4,000 troops in the area while the U.S. has about 1,000.
Before it's here, it's on the Bloomberg Terminal.
LEARN MORE