Politics
FEMA Is Spending Billions, and Some Questionable Companies Are Getting Work
A surge in disaster contracts from hurricanes has put the agency under pressure to bypass the usual competitive bidding process.
By and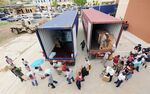 This year's record hurricane season has led to the biggest spike in government disaster contracts in more than a decade, testing the government's ability to manage the unpredictable and growing costs of climate change. Since Hurricane Harvey struck Texas on Aug. 25, the Federal Emergency Management Agency has awarded $2.2 billion in contracts, according to data compiled by Bloomberg Government. That's about twice what the agency typically awards over an entire year.
With parts of Florida, Texas, and Puerto Rico in desperate need of help, FEMA is under pressure to put money to work as fast as possible. One way to speed things up is to bypass the usual competitive bidding process. In the fiscal year ended Sept. 30, FEMA awarded $178 million in noncompete contracts, more than twice as much as the year before. The danger in sidestepping competitive bidding is that the government may pay more than it needs to and that companies may not get the necessary scrutiny. And with 85 percent of its staff deployed to cope with the effects of natural disasters around the country, FEMA's personnel may have a harder time than usual making sure contractors are doing their jobs. "There's not enough people to go around," says Sandra Knight, a former deputy associate administrator at FEMA who's now at Dawson & Associates, a Washington consulting firm. "They're moving 200 miles an hour."

Federal watchdogs have warned FEMA about situations like this. In 2015 the U.S. Government Accountability Office found the agency still hadn't fully implemented changes to its contracting process that were legislated by Congress after Hurricane Katrina. It cited FEMA's "risk of developing gaps in contract oversight during major disasters." Kirstjen Nielsen, President Trump's nominee to head the Department of Homeland Security, was George W. Bush's head of the Homeland Security Council Prevention, Preparedness and Response directorate. That body was "at the apex of the policy coordination framework for responding to Hurricane Katrina," according to the 2006 Katrina postmortem by a congressional commission.
One risk is that contractors with questionable track records get taxpayer money again. Since Harvey, FEMA has awarded $215 million to a company called Composite Analysis Group Inc. to provide bottled water. According to a federal contractor database, Composite Analysis is also called Lipsey Mountain Spring Water Inc., which got $81 million in 2005 for services that included providing bottled water to areas hit by Hurricane Katrina. Lipsey missed at least 9 of 14 deadlines, failed to document its orders properly, submitted "improper or inaccurate documentation," and was paid $881,000 in unsupported costs, the U.S. Department of Defense's inspector general later concluded. Composite Analysis didn't respond to a request for comment. FEMA declined to answer questions about its vetting of the company.
On Oct. 2, FEMA awarded $1.6 million to Inner Parish Security Corp. The U.S. Department of Labor found that Inner Parish committed hundreds of federal wage and labor violations dating back to at least 2002, according to records reviewed by Bloomberg, some on FEMA contracts. Inner Parish didn't return calls seeking comment. FEMA declined to answer questions about whether it knew about the company's legal history when deciding to award or continue the latest contract.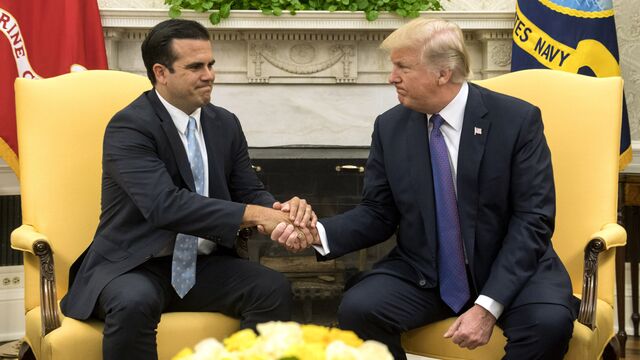 While some FEMA money went to large public corporations, including International Business Machines, Verizon Communications, and Envision Healthcare, millions also went to smaller companies with limited records of disaster relief. On Sept. 5, Gibbco LLC got a $74 million award to build mobile homes for Hurricane Harvey victims. Gibbco's only public presence is a GoDaddy website, which lists neither a phone number, an email address, nor information about who runs the company. According to a contract database run by the U.S. Department of the Treasury, Gibbco has five employees and annual revenue of $200,000; the address listed as its headquarters belongs to a house in a residential neighborhood in Longwood, Fla.
A phone call to a number associated with the company was answered by a man who refused to provide his name or answer questions, saying only, "We don't give information away unless it's approved by the government." He referred questions to FEMA, which declined to answer them.
David Berteau, chief executive of the Professional Services Council, a trade group that represents federal contractors, says FEMA usually vets companies in advance of natural disasters. But during a hurricane season like this, the agency often needs to expand its list of vendors. "You've got to take the best you can get," he says. —With Daniel Flatley and Susan Decker
BOTTOM LINE -
Since Hurricane Harvey hit, FEMA has given out $2.2 billion in contracts, some of which are being awarded to companies with past violations for similar work.
Before it's here, it's on the Bloomberg Terminal.
LEARN MORE