Catalans Consider Proclaiming Independence as Soon as Next Week
By and
Decision will be taken in coming days, Catalan deputy says

Pro-independence lawmakers to meet in Catalan parliament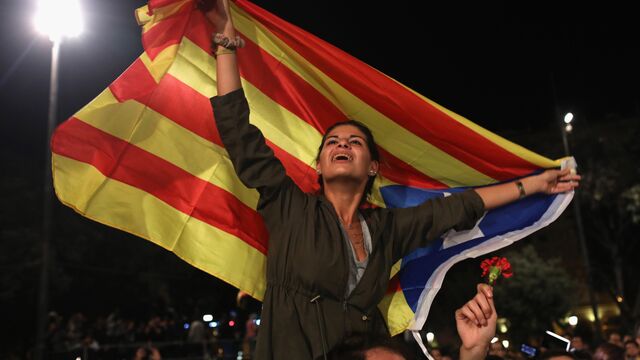 The leaders of Catalonia's separatist movement are considering proclaiming independence as early as next week as they debate their response to the latest offensive from the government in Madrid.
"We should take a decision in the next days," Jordi Xucla, a Catalan deputy for the PDeCAT party in the Spanish Parliament in Madrid, said in a Bloomberg Television interview. "The decision could be obviously the declaration of independence maybe in one week or in two weeks."
Senior lawmakers from the main pro-independence parties will meet in the Catalan Parliament on Monday to discuss the potential choreography of the event, according to a person familiar with their plans. The political leaders are concerned that they may lose control of more radical factions among the grass-roots campaigners unless they deliver quickly on the result of an illegal referendum held on Oct. 1, the person said, asking not to be named, because the were private.
Prime Minister Mariano Rajoy unleashed his most powerful legal weapons on Thursday, triggering the process to take direct control of the Catalan administration using Article 155 of the Spanish Constitution. Regional President Carles Puigdemont had earlier warned the premier that such a move might force the rebel region into a unilateral declaration of independence.
Read more: Understanding the fight over Catalonia -- a QuickTake explainer
A spokesman for the Catalan government declined to comment on the timing of a possible declaration of independence when contacted by phone. He said the pro-independence movement remains disciplined and is fully supporting the regional government.
The separatists' plans could still be overtaken by events with the Spanish cabinet is meeting Saturday to approve the specific measures it will use to force the Catalan administration to submit to the rule of law. While the Article 155 measures require approval from the Senate, the jailing of two leading activists on Monday showed that the Spanish courts could also act against the separatists.
The politicians leading the drive for secession have become increasingly concerned about the pressure from the streets since Jordi Sanchez and Jordi Cuixart were detained by the National Court as part of a criminal investigation into the campaign. Sanchez and Cuixart had the moral authority to persuade hardliners on the streets to be patient as Puigdemont tries to force the Spanish government to the negotiating table, the person said.
Before it's here, it's on the Bloomberg Terminal.
LEARN MORE