Apple, Suppliers Fall After Report of Lower iPhone 8 Orders
By and
Phone carriers see fewer upgrades to the latest iPhone models

Analysts expect buyers are waiting for iPhone X in November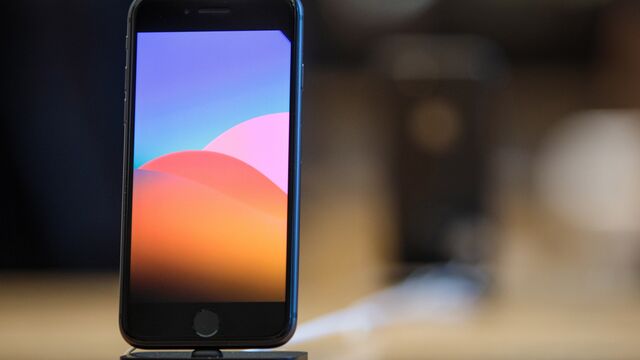 Shares of Apple Inc. and some of its suppliers fell on signs that demand for the new iPhone 8 models isn't as strong as anticipated while buyers await the release of the higher-end iPhone X.
The Taipei-based Economic Daily News reported Thursday that Apple cut orders for its latest model, which went on sale last month, by more than 50 percent. The newspaper didn't identify its source or elaborate on what sort of orders had been pulled, or how it arrived at that number. An Apple spokeswoman declined to comment.
AT&T Inc.'s customers upgraded 900,000 fewer handsets in the three months through September than a year earlier, it said in a regulatory filing Wednesday. The trend hints at customers waiting for the flagship iPhone X to buy a new phone.
There's a "more anemic appetite for the iPhone 8 right now," Joe Natale, chief executive officer of Canadian carrier Rogers Communications Inc., said in a conference call Thursday. "There's lots of anticipation around the iPhone X and what it has to offer."
Many analysts already expected that the iPhone 8 would be overshadowed by stronger demand for iPhone X, which is scheduled to be released next month. But investors are sensitive to any potential demand weakness for Apple products.
"It puts more pressure, more focus on the iPhone X, but that's the Super Bowl event," said Daniel Ives, head of technology research at GBH Insights. "I view the iPhone 8 as really just a placeholder."

Apple shares slid as much as 2.8 percent to $155.26, the most intraday since Sept. 20. The stock had risen 38 percent through Wednesday, and is close to a record high, buoyed largely by anticipation for the iPhone X. Shares in Pegatron Corp., a contract assembler that gets almost 60 percent of its revenue from Apple, fell as much as 2.7 percent in Taipei trading. Other suppliers including Catcher Technology Co. and AAC Technologies Holdings Inc. also declined.

Earlier reports have also flagged weak demand for the iPhone 8, though investors are mostly expecting a sales surge from the high-end iPhone X when it becomes available Nov. 3. With its $999 price tag, the iPhone X will do more to help boost Apple's margins. The top-of-the-line model includes a facial recognition system that uses a 3-D scanner to unlock the handset, replacing the fingerprint sensor in the iPhone 8 and other earlier versions.
Apple forecast total sales of $49 billion to $52 billion in the three months through September, a projection investors understood to signal resilient iPhone demand that could also carry over into the December quarter, given the staggered phone release dates. Analysts see total sales in the holiday quarter jumping 10 percent to $87 billion.
"What's lurking is a question of is this just people waiting for the X or is there weakness in overall demand?" said James Cordwell, an analyst at Atlantic Equities. "A demand problem is more of a fundamental issue."
The Economic Daily said the lowered orders mean shipments of iPhone 8 models could come in at just 5 million to 6 million a month in November and December.
The newspaper also said Apple is grappling with production hiccups that could disrupt supply for the iPhone X. The issue isn't difficulties securing supply of cutting-edge organic light-emitting diode screens or three-dimensional sensors, as reported earlier, but of glass panels, the newspaper said.
— With assistance by Yu-Huay Sun, Edwin Chan, Yuan Gao, David Russell, and Alex Webb
Before it's here, it's on the Bloomberg Terminal.
LEARN MORE