Key Points: Xi's Sweeping Vision to Transform China
Bloomberg News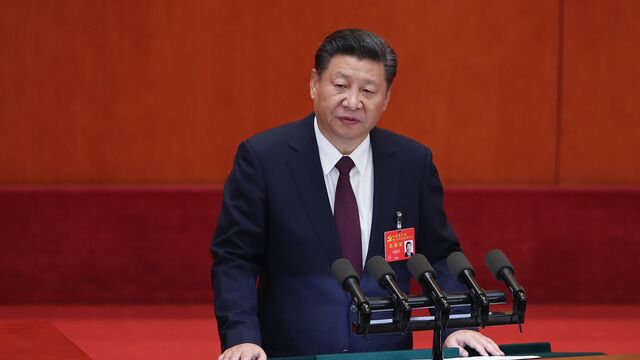 President Xi Jinping laid out a sweeping vision to transform China by 2050 at a twice-a-decade party gathering on Wednesday in Beijing.
Here are some key quotes from the speech, which ran for more than three hours:
Foreign Policy
What Xi said: "China opposes imposing its own will to others, opposes interference in the internal affairs of other countries, and opposes the strong nations bullying the weak."
"No one should expect China to swallow anything that undermines its interests."
The backdrop: A more assertive and ambitious foreign policy has been a hallmark of the Xi presidency. In May, he pledged 540 billion yuan ($82 billion) and encouraged banks to contribute another 300 billion yuan in overseas capital to finance the Belt and Road initiative infrastructure initiative he launched in 2013.

Economy
What Xi said: "We will move Chinese industries up to the medium-high end of the global value chain, and foster a number of world-class advanced manufacturing clusters."
The backdrop: Growth in the world's second-largest economy decelerated last year to 6.7 percent, the slowest annual pace in a quarter century. It will sustain the same pace this year before declining to 6.4 percent next year and 6.1 percent 2019, according to economists surveyed by Bloomberg.
Markets
What Xi said: "We will improve the framework of regulation underpinned by monetary policy and macro-prudential policy, and see that interest rates and exchange rates become more market-based."
The backdrop: Xi's team took steps to ensure against any financial-market disruptions in the run-up to the congress, with the stock market seeing its lowest volatility in 25 years. The benchmark Shanghai Composite Index has risen almost 9 percent so far this year.
China also succeeded in disrupting the consensus view that the yuan was set for continuous gradual deprecation, with the currency poised for an annual gain in 2017 after three straight years of declines. In recent months, officials have allowed greater swings in the exchange rate -- a sign for some market players that China may be preparing to widen the yuan's trading band.
Foreign Investment
What Xi said: "China upholds the basic national policy of opening to the outside world and insists on opening up its door to engage in construction."
The backdrop: China ranks 59th out of the 62 countries evaluated by the Organization for Economic Cooperation and Development in terms of openness to foreign direct investment. The economy is also becoming less dependent on FDI: In 2016 it accounted for a little more than 1 percent of China's gross domestic product, down from around 2.3 percent in 2006 and 4.8 percent in 1996.
Environment
What Xi said: "In addition to creating more material and cultural wealth to meet people's ever-increasing needs for a better life, we need also to provide more quality ecological goods to meet people's ever-growing demands for a beautiful environment."
The backdrop: Pollution levels in Beijing, China's capital, often reach 10 to 20 times the World Health Organization's recommended maximum day-long exposure limit.
Anti-corruption
What Xi said: "We must remain as firm as a rock in our resolve to build on the overwhelming momentum and secure a sweeping victory."
The backdrop: Xi's signature anti-corruption campaign has ensnared hundreds of thousands of officials since 2012 and sidelined many of his would-be rivals.
Watch Next: How Xi Jinping Went From Feeding Pigs to Ruling China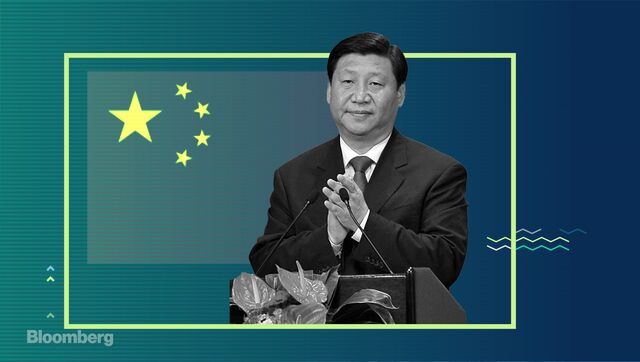 — With assistance by Peter Martin, Keith Zhai, and Chris Anstey
Before it's here, it's on the Bloomberg Terminal.
LEARN MORE