Trump Feuds Over His Call to an Army Widow
By and
Trump said dead soldier knew what he signed up for: lawmaker

'I have no reason to lie,' Florida Democrat says of call
Donald Trump lashed out Wednesday at a Democratic lawmaker who said that she witnessed his phone call to the widow of a fallen soldier and that the president told the widow her husband knew what he signed up for.
Representative Frederica Wilson of Florida said on MSNBC that Trump spoke in an "almost joking" manner to the widow of Sergeant La David Johnson, one of four U.S. soldiers killed earlier this month in Niger during an ambush.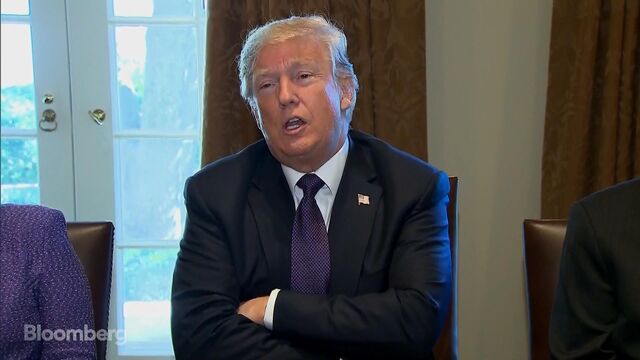 "Democrat Congresswoman totally fabricated what I said to the wife of a soldier who died in action (and I have proof). Sad!" Trump responded on Twitter.
Later at the White House, he added to his denial.
"I didn't say what that congresswoman said. Didn't say it at all," he said. "She knows it. And she now is not saying it. I did not say what she said, and I'd like her to make the statement again, because I did not say what she said. I had a very nice conversation with the woman, with the wife who sounded like a lovely woman."
Wilson, who has said she was in the car with the widow during the call, said she has "no reason to lie."
Niger Ambush
The circumstances of the troops' deaths remain under review. One administration official said Johnson was part of a counter-Al Qaeda operation in the Sahel near the Mali border. Johnson's body was not recovered until two days after the ambush.
Trump spoke to the families of the four soldiers on Tuesday, almost two weeks after the raid. The administration official said Trump didn't call the families sooner because the Department of Defense only sent "call packages" to the White House -- background on each casualty and his family -- on Monday.
Wilson said Trump's call left Johnson's pregnant widow distraught.
"She was in tears and she said, 'He didn't even remember his name,'" Wilson said.

"He was almost like joking. He said, 'Well I guess you knew he,' something to the fact that 'he knew what he was getting into when he signed up, but I guess it hurts anyway.'"
No Audio
The White House didn't immediately respond to a request for audio or a transcript of the call.
"I have no reason to lie on the president of the United States with a dead soldier from my community," Wilson said on CNN after Trump's tweet. "I'm concerned about why he died. Why wasn't he protected?"
"This might be Trump's Benghazi," she said. "He needs to investigate this very closely."
Trump's claim that he has proof of what was said in the call with a grieving widow is his latest unusual action in dealing with the military deaths, which remain under review by the Defense Department.
Asked to provide the proof he said he possesses that would rebut Wilson's account of the conversation, Trump told reporters, "Let her make her statement again."
Told that she had, he said again: "Let her make her statement and then you'll find out."
Questioning Predecessors
On Monday, Trump responded to a reporter's question about the deaths by claiming that former presidents, including Barack Obama, didn't often call families of those killed in action. He drew rebukes from former aides to the three previous presidents, who all said the assertion was untrue.
"So, the traditional way -- if you look at President Obama and other presidents, most of them didn't make calls, a lot of them didn't make calls," he said.
When pressed on that claim, Trump retreated and said he was unsure whether Obama had called dead soldiers' families.
Kelly's Son
On Tuesday, Trump cited his chief of staff, John Kelly, to defend his claim about his predecessors. Kelly's son was killed in Afghanistan in 2010.
"You could ask General Kelly, did he get a call from Obama?" Trump said Tuesday in an interview that aired on Fox News Radio. "You could ask other people, I don't know what Obama's policy was."
Obama hosted Kelly at a breakfast for Gold Star families after his son died, the Associated Press reported, citing White House visitor logs.
— With assistance by Jennifer Jacobs, and Justin Sink
Before it's here, it's on the Bloomberg Terminal.
LEARN MORE