politics
Trump's Business Empire Sends Court Into Uncharted Legal Terrain
By
Payments to Trump by foreign governments illegal, group argues

U.S. lawyers seek to dismiss lawsuit challenging president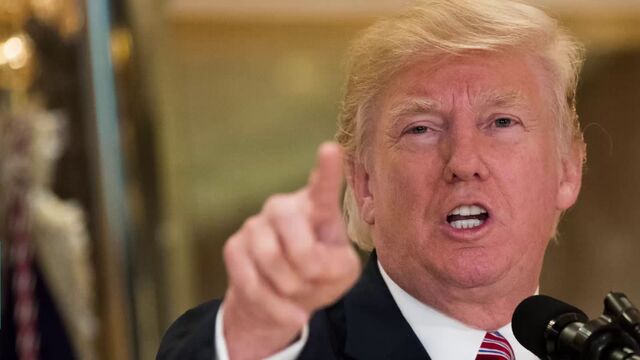 Three well-dressed young men sat nervously across the boardroom table from Lord Alan Sugar, billionaire founder of the Amstrad electronics company. They'd made a hash of their assigned task: selling burgers on the street in London's Brixton neighborhood.
Lord Sugar pointed his index finger accusingly at the man in the center.

"Danny, it is with regret that you're fired," he said.
With that, the British version of "The Apprentice" kicked off its 13th season on Oct. 4, a show that has been a ratings hit for the British Broadcasting Corporation. It is also part of a high-stakes constitutional challenge facing President Donald Trump.
Citizens for Responsibility and Ethics in Washington, a watchdog group known as CREW, has sued Trump claiming he is violating the Constitution's Foreign Emoluments Clause, a rarely invoked provision barring federal office-holders from taking gifts and payments from other governments. Several other emoluments lawsuits have been filed challenging the 45th president.
The emoluments challenges got their first legal test Wednesday in Manhattan, where a federal judge heard arguments on the government's motion to dismiss CREW's case. For Trump, the case could eventually force him to divest holdings or put them in a blind trust, as well as reveal his tax returns. No court has ever considered whether the Constitution requires a president to surrender his business holdings.

CREW maintains that Trump is violating the clause by accepting payments from foreign governments, whether they are staying at his hotels, renting space in his buildings or licensing a version of "The Apprentice."
"We want the judge to look at the finances of the Trump Organization and then tell the president what he can keep and what he can't without violating the Constitution," said Richard Painter, the group's vice chairman and the former ethics czar for President George W. Bush.
Trump argues that CREW and other plaintiffs lack the legal standing to sue -- that they can't claim the kind of injury from his alleged violation that would get them past the courthouse door. He also maintains that the Foreign Emoluments Clause was never intended to apply to commercial transactions such as restaurant bills, hotel charges, office rent or golf course fees.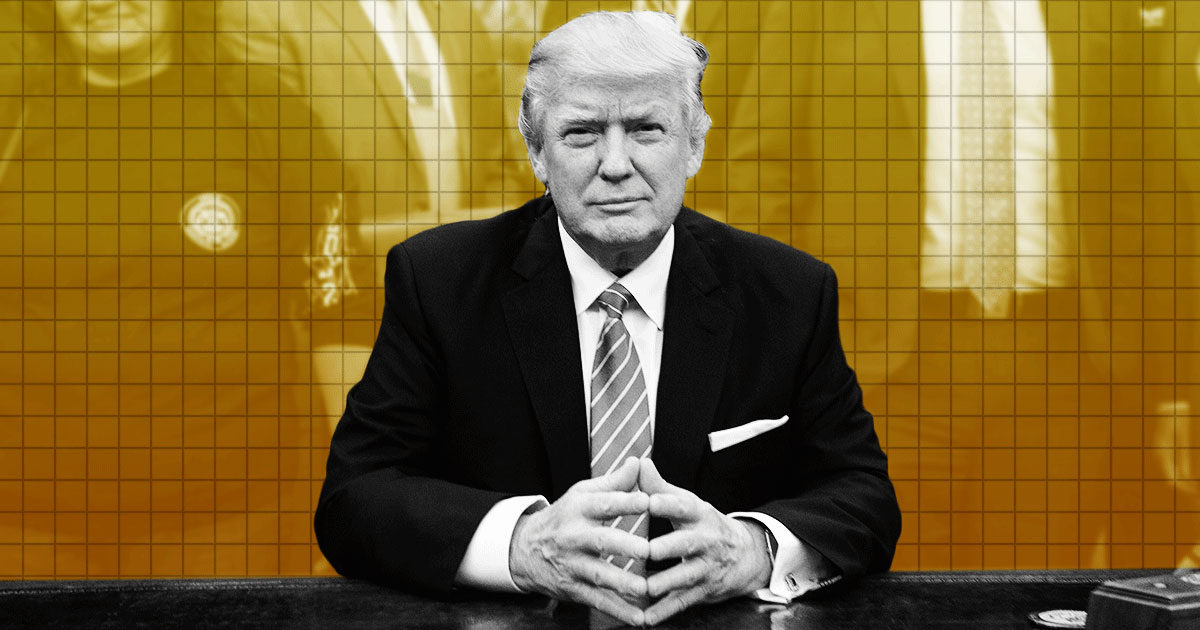 More: Here's a complete dataset of Trump Organization LLCs
The clause says that no one "holding any Office of Profit or Trust" in the federal government may "accept of any present, Emolument, Office, or Title, of any kind whatever, from any King, Prince, or foreign State," without the consent of Congress.
In court on Wednesday, U.S. District Judge George Daniels questioned CREW's lawyer about standing and whether the matter is one for Congress rather than the courts. But the judge was also skeptical of the government's narrow definition of "emoluments." CREW considers an emolument to be any benefit from a foreign nation, while the U.S. says an emolument is a payment derived from a government position only.
Daniels said he'll rule within two months.
Hamilton's Writing
In a friend-of-the-court brief, Seth Barrett Tillman, a legal scholar and lecturer at Maynooth University in Ireland, argued that the Foreign Emoluments Clause doesn't apply to presidents. In support he cites a document, written in 1793 by then-Treasury Secretary Alexander Hamilton, that excluded the president, vice president and other elected officials from a 90-page list of "every person holding any civil office or employment under the United States."
Tillman also points to the practice of early presidents, including George Washington and Thomas Jefferson, who received diplomatic gifts without asking Congress for permission.
Another group of legal scholars filed a brief in support of CREW -- and challenging Tillman. They argue that the framers of the Constitution sought to apply the Emoluments Clause broadly to provide strong protection against official corruption. Both the Justice Department and Trump's own lawyers have assumed the clause applies to the president.
CREW also claims Trump is violating a separate Constitutional provision, the Domestic Emoluments Clause, which prohibits the president from taking payments from the federal or state governments, regardless of Congressional consent.
Trump's Business Ties and That 'Emoluments' Issue: QuickTake Q&A
CREW's lawsuit focuses on what it says are multiple instances where Trump violates the Foreign Emoluments clause.

In the case of the U.K.-version of "The Apprentice," for instance, the president is drawing checks from Her Majesty's treasury, since the BBC is government owned, the group says. In other instances, Trump is illegally profiting from foreign diplomats and governments hoping to win influence with the president by doing business with his companies, CREW argues.
Crew notes that foreign diplomats are holding parties in Trump's Washington hotel and that a bank owned by the Chinese government rents office space in Trump Tower. It says the Chinese government approved Trump trademarks once he became president, after a history of denying his applications.
CREW also cites instances where Trump is said to run afoul of the Domestic Emoluments clause, including his receipt of money from government officials at properties such as his Washington hotel and Mar-a-Lago resort.
"If the president can violate any portion of the Constitution with impunity, then he will feel free to disregard the whole thing," Norm Eisen, CREW's chairman and former ambassador and ethics adviser under President Barack Obama, said in an interview.
Trump faces Foreign Emoluments claims in a suit by Congressional Democrats in federal court in Washington. The Maryland and D.C. attorneys general sued Trump in Maryland federal court over violation of both the Foreign and Domestic Emoluments Clauses.
Joining CREW as plaintiffs in the New York case are Restaurant Opportunities Centers United, an association representing 200 restaurants and 25,000 workers, Jill Phaneuf, a Washington based luxury hotel event booker, and New York hotel and restaurant owner Eric Goode. They claim Trump is costing them money by illegally competing with them for the business of foreign officials.
The case is Citizens for Responsibility and Ethics in Washington v. Trump, 17-cv-458, U.S. District Court, Southern District of New York (Manhattan).
— With assistance by Erik Larson
Before it's here, it's on the Bloomberg Terminal.
LEARN MORE