Tillerson Seeks Closer U.S.-India Ties to Bolster Stability
By
Diplomat welcomes India's assistance in Afghanistan conflict

Tillerson criticizes China for undermining 'rules-based order'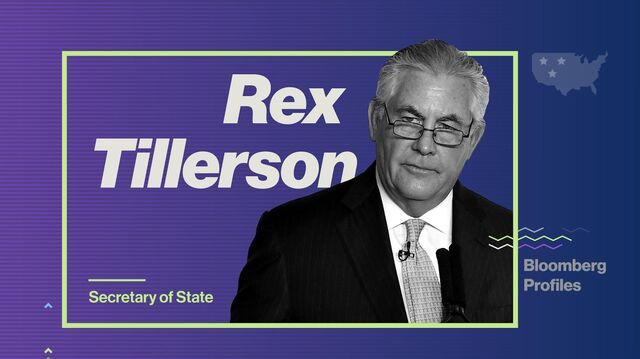 Secretary of State Rex Tillerson laid out the Trump administration's vision for the U.S. role in South Asia, arguing for greater U.S. economic influence and military ties and praising an "emerging Delhi-Washington strategic partnership" as an anchor for stability.
Tillerson's speech on Wednesday, a rare policy address for America's top diplomat since he took office more than eight months ago, was in keeping with a broader shift on South Asia under which the U.S. intends to seek India's help more often as a partner in Afghanistan. That includes increasing pressure on India's rival, Pakistan, to stop supporting terrorist groups that the U.S. says continue to foment conflict.
The remarks were also a chance for Tillerson to focus on an opportunity -- as the U.S. sees relations with India -- rather than the global hot spots that frequently dominate the foreign policy agenda, a senior State Department official told reporters on condition of anonymity. The official said the U.S. envisions an Asia-Pacific region anchored by four countries: Australia, India, Japan and the U.S.
"The Trump administration is determined to dramatically deepen ways for the United States and India to work together," Tillerson said at the Washington-based Center for Strategic and International Studies, where he was a board member for 11 years. The remarks came ahead of Tillerson's planned trip to South Asia next week, including stops in India and Pakistan.
Reliable Partner
"In this period of uncertainty and angst, India needs a reliable partner on the world stage," Tillerson said, days before he departs for South Asia. "I want to make clear: With our shared values and vision for global stability, peace and prosperity, the United States is that partner."
Tillerson also called out China, saying that its rise as a global power had been carried out "less responsibly" than India's and that the country's leaders had undermined the "international, rules-based order."
He reserved his most pointed remarks concerning China and its push for greater economic influence in the region for a question-and-answer period after the speech. He said China was offering financing that saddles countries with enormous debt and triggers for repayment that lead to default.
China Competition

"We will not be able to compete with the kind of terms that China offers, but countries have to decide what are they willing to pay to secure their sovereignty and their future control of their economies," Tillerson said. He said the U.S. has begun "quiet conversations" with countries in the region about other forms of financing.
India ranks just 130th on the World Bank's annual survey on the ease of doing business. Yet Tillerson cited the growth of the two countries' economic partnership, saying 600 American companies work there and that U.S. investment in the country has risen 500 percent in two years. He said bilateral trade will climb beyond the record $115 billion reached last year, noting that a U.S. shipment of crude oil arrived in India this month for the first time.
Citing India's role as the world's most populous democracy, Tillerson said the two nations "share a vision for the future." He called for closer defense ties, referring to a range of hardware the U.S. is prepared to sell India. He added that he "couldn't agree more" with comments by Defense Secretary Jim Mattis that the world's two greatest democracies should have the two greatest militaries.
Ahead of Tillerson's trip to South Asia, he said the U.S. and India will convene "a new dialogue on terrorism designations." He didn't provide details.
Tillerson only briefly mentioned Afghanistan and Pakistan. He said Pakistan is also an important partner and is expected to "take decisive action" against terrorist groups. He said the U.S. will turn to its partners to bring more stability to Afghanistan, where the U.S. has had troops for nearly 16 years in what has become America's longest war. "India is a partner for peace in Afghanistan, and we welcome its assistance efforts," he said.
"The challenges and the dangers we face are substantial," Tillerson said. "The scourge of terrorism and the disorder sown by cyberattacks threaten peace everywhere."
Before it's here, it's on the Bloomberg Terminal.
LEARN MORE