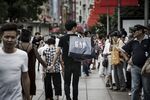 Communist Party politics can be difficult to navigate but one thing we know: If President Xi Jinping is to realize his "Chinese dream" he can't afford to choke consumption, for all the talk of reining in debt.
That brings us to a red-hot October for online consumer lenders. 
Qudian Inc., operator of a loan platform for consumers and small businesses, jumped 22 percent on its New York trading debut Wednesday. The Beijing-based company raised $900 million in an initial public offering on the eve of China's 19th party congress, pricing its shares above the high end of its indicative range. It's the largest U.S. listing by a Chinese company since the $1.4 billion sale by logistics company ZTO Express (Cayman) Inc. in September 2016.
Qudian's experience stands in sharp contrast to that of China Rapid Finance Ltd., a peer-to-peer consumer lender. In April, China Rapid Finance managed to raise only $60 million, having priced at the bottom end of its range. Since then, though, the shares have soared more than 90 percent, with most of the gain coming this month. Similarly, the October rally has brought the advance for Beijing-based consumer finance company Yirendai Ltd. to 150 percent this year.

What changed investors' minds? The answer lies between the lines of a September statement from the People's Bank of China, which let the consumer credit cat out of the bag.
Less than three weeks before the congress, the central bank said it would reduce the required reserve ratio for lenders that engage in "inclusive financing," a new addition to the Beijing lexicon that refers to loans issued to small businesses and consumers with little access to bank credit. This generous cut in the amount of cash lenders must park with the central bank was seen as a tacit green light for consumer lending to flourish.
The hitch is that we know China's state-owned banks can never be good lenders to consumers. They are too busy servicing state-owned enterprises and stacking up China's corporate debt to 160 percent of GDP. Hence the opportunity for consumer finance companies.
With China moving toward a "modestly prosperous society," as President Xi put it in his congress opening speech, the burgeoning middle class can support a lot more credit. At the end of 2016, household debt accounted for only 44.8 percent of GDP, well behind the ratio for developed countries. As a result, China isn't rebalancing its economy fast enough toward consumption and away from the debt-fueled investments that have driven growth in the past.

Looking at Qudian's financials, one can't help the bullish feeling that China's consumer credit market is only in its early stages. Qudian's rate of loan delinquencies, defined as those over 30 days past due, is only 0.5 percent or less this year, according to the company, which relies on Alibaba Group Holding Ltd.'s Ant Financial affiliate for new borrowers and credit rating services.
To be sure, some of the recent enthusiasm is simply investors playing catch-up. Even at the bid-up IPO price of $24 per share, Qudian is valued at 35 times historical earnings. Alibaba, meanwhile, trades at 35 times forward earnings. 
From tech giants such as Alibaba and Tencent Holdings Ltd. to carmakers such as Geely Automobile Holdings Ltd., foreign investors are latching on to the China consumption theme again this year.
Giant state-owned companies may command more attention from the country's murky political system, but Xi -- and investors -- know that the middle class is China's true Too Big to Fail.
Before it's here, it's on the Bloomberg Terminal.
LEARN MORE