Political Prisoner or Jailed Politician? It's Catalans' Spin Battle With Spain
By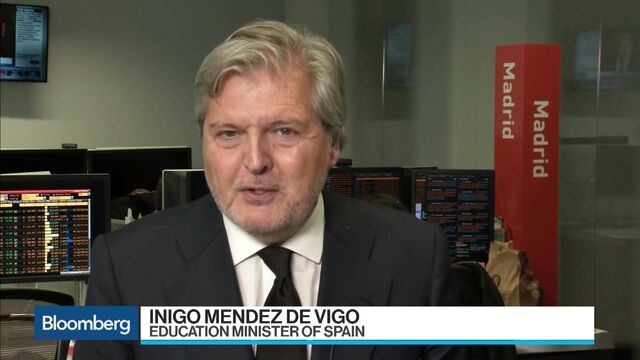 As soon as judges in Madrid jailed Catalan activists Jordi Sanchez and Jordi Cuixart this week, the separatists' media machine swung into gear. 
In state-sponsored broadcasts and on social media, the Catalans closed ranks as the battle of spin with the Spanish government entered a new phase. One side claims the moral high ground and the other the legal.
"We have political prisoners again," Regional President Carles Puigdemont said on Twitter. Opposition lawmakers held up signs on Wednesday morning in the Spanish Parliament demanding "freedom for the political prisoners."
Pep Guardiola, the pro-independence Catalan who coaches Manchester City soccer club, dedicated his team's Champions League victory on Tuesday night to the two campaigners.
"They have always expressed the ideas about what we want with civic responsibility," Guardiola said at his post-match press conference. "I hope they will be released soon. It's as if we were all in there."
From the moment Spanish Prime Minister Mariano Rajoy assigned his deputy prime minister, the state attorney Soraya Saenz de Santamaria, to handle Catalonia last year, he made it clear he would treat the issue as a legal problem.
Letting the courts and then the police take the lead in blocking the illegal referendum on Oct. 1 shielded Rajoy from a political showdown at first, but then events turned on him in Barcelona. 
The Catalans claimed millions of ballots were cast at makeshift polling stations in favor of independence, and the police handed the separatists a propaganda victory by beating up activists. The government later apologized for any injuries that occurred while police carried out court orders.
Spanish Justice Minister Rafael Catala argued Tuesday that the two Jordis were not "political prisoners" but "imprisoned politicians."
There may be a criminal case for the two men to answer over their role in leading a Sept. 20 demonstration in Barcelona that saw three Civil Guard vehicles vandalized and officers trapped for several hours inside a government building. But winning in the court of law may prove an insufficient victory if Rajoy starts to lose in the court of public opinion.
— With assistance by Charles Penty
Before it's here, it's on the Bloomberg Terminal.
LEARN MORE