Morneau Claws Back Tax Proposal After Outcry, Hints at Revenue
By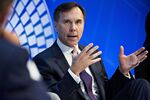 Canada's Finance Minister announced the latest amendment to controversial tax proposals, saying the government will add an income threshold for a new levy on so-called "passive income" of private corporations.
Bill Morneau announced the change Wednesday in New Brunswick, saying a new tax on passive income investments from within so-called Canadian Controlled Private Corporations will only apply to earnings above C$50,000 ($42,000) a year. An example of passive income within a CCPC would be a person investing for retirement, rather than their active business, within a professional corporation.
The announcement tweaks one of three July proposals that triggered a backlash. The finance minister also offered a hint of how much money the government will reap from the changes, calling it "orders of magnitude" above the C$250 million forecast to be raised by measures restricting so-called income sprinkling. The government will use the new revenue in a way that "enables us to make the system that much better for middle class Canadians."
The changes mean 97 percent of Canadian private corporations will not be affected by passive income tax, Morneau said.
Prime Minister Justin Trudeau's Liberals are rolling out announcements as they seek to quell an outcry to the earlier measures aimed at changes to passive income, "sprinkling" and capital gains. They announced a cut to the small-business tax rate Monday, and have said they'll amend the capital gains proposal to protect intergenerational transfers of family farms.
The changes prompted widespread warnings from business groups, angel investors and farmers, who warned the scope of the changes and compressed consultation period were altogether ramming through flawed proposals.
The government -- which raised the rate on the highest income earners within weeks of taking office in 2015 -- says the changes are aimed at the sharp rise in money held within so-called CCPCs, and to change rules that allow high earners in particular to lower their tax bill.
Before it's here, it's on the Bloomberg Terminal.
LEARN MORE