India Tightens Gold-Import Rules to Curb Trade Irregularities
By
India restricts imports by four- and five-star export firms

Move comes as traders try to circumvent paying import tax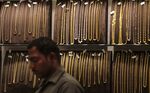 India moved to curb gold-trade irregularities by preventing some trading houses from importing the metal following a surge in shipments in recent months.
The second-biggest consumer won't issue or renew authorization to firms nominated by the Reserve Bank of India that fall under the so-called four- and five-star categories, the trade ministry said in a notice on its website. Those companies that already have permits can import gold to be used in manufacturing and then for export during the remaining license period, it said.
The decision comes after a jump in overseas purchases from nations like South Korea and Indonesia, which have free-trade agreements with India, as traders try to bring in gold at zero tax and avoid paying a 10 percent import duty. The government in August also banned exports of gold products with purity above 22 carats. The latest move won't impact overall imports, but will help in streamlining trade, the All India Gems & Jewellery Trade Federation said.
"Whether it is 10 companies or five, if there is a requirement then imports will anyway happen," Nitin Khandelwal, the federation's chairman, said by phone. "With these measures, only the methods of import will change and they will now happen through proper channels."
India's jewelry industry has been suffering because some companies were misusing trade agreements and selling gold at discounted rates in the market, because they were not paying import taxes, he said.
In India, the companies allowed to import gold include some banks, trading houses and large jewelers. Four- and five-star categories typically cover the top trading houses.
Inbound gold shipments during the first eight months of this year more than doubled to 666.7 metric tons, almost matching the total local consumption in 2016, according to data compiled by Bloomberg.
Before it's here, it's on the Bloomberg Terminal.
LEARN MORE