Ex-Biogen CEO Raises $500 Million to Conquer Infectious Diseases
By
Vir Biotechnology focusing on hepatitis B and other ailments

Investors include SoftBank's Vision Fund, Gates Foundation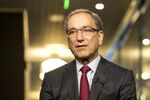 Veteran biotechnology executive George Scangos has been busy since leaving Biogen Inc. and setting up an infectious-disease startup: After founding Vir Biotechnology Inc. in January, he's done seven deals and raised more than $500 million.
That's one of biggest fundraising rounds for any biotechnology startup this year, particularly for one focused on infectious diseases, an arena that traditionally hasn't made a lot of money. Vir, which won't start human trials for about 18 months, is setting its sights on treatments for tricky ailments that have long thwarted researchers, such as drug-resistant tuberculosis, Zika, hepatitis B and HIV.
"The conventional wisdom that infectious diseases is not a place you can make a money is wrong," said Robert Nelsen, managing partner at Arch Venture Partners and a founder of San Francisco-based Vir. "Some people say hepatitis B can't be cured, but if you can, it'll be a big blockbuster."
Nelsen and Scangos said the time is right for a strategy like Vir's because scientific advances in modulating the immune system, which have attracted droves of drugmakers to cancer immunotherapies, also could crack open new ways to attack infectious diseases.
"Five years ago, we would have been banging our heads against the wall," said Scangos. New diagnostics and better understanding of the immune system have made for "reasonable approaches with reasonable risks."
Vir's strategy of simultaneously executing multiple programs and partnering with multiple companies is one way of mitigating risk, said Scangos, as they can quickly kill off programs that don't work without sinking the whole company.
Partnership Deals
Vir has acquired Humabs BioMed SA, a Swiss drugmaker with more than 15 drug candidates in development, and has signed partnership deals with Alnylam Pharmaceuticals Inc., Visterra Inc., Stanford University, Harvard University, the Fred Hutchinson Cancer Research Center in Seattle and the Oregon Health & Science University, according to a company news release.
The multipronged approach also reflects what may be needed to conquer some of these diseases, said Scangos: "Hepatitis B will require combination therapy -- no single modality by itself will lead to a cure. We think Alnylam's siRNA can be part of a treatment, but we also have an interesting antibody from Visterra and a vaccine."
Investors in Vir include the Bill & Melinda Gates Foundation, Japanese mega-investor SoftBank Group Corp.'s SoftBank Vision Fund, Singapore-based Temasek Holdings Pte., Alta Partners, Altitude Life Science Ventures, Baillie Gifford and the Alaska Permanent Fund Corp.
Vir may soon have more cash under its belt, says Scangos. Another fundraising round is in the works and is expected to close at the end of the year.
Before it's here, it's on the Bloomberg Terminal.
LEARN MORE