Democrats Plan to Name Lobbyists, Operatives Superdelegates
By
The Democratic National Committee is meeting in Las Vegas

Chairman Tom Perez nominating slate of 75 new DNC members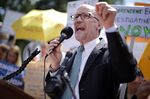 The Democratic Party this week plans to name 75 people including lobbyists and political operatives to leadership posts that come with superdelegate votes at its next presidential convention, potentially aggravating old intraparty tensions as it struggles to confront President Donald Trump.
The new members-at-large of the Democratic National Committee will vote on party rules and in 2020 will be convention delegates free to vote for a primary candidate of their choice. They include lobbyists for Venezuela's national petroleum company and for Rupert Murdoch's News Corp., according to a list obtained by Bloomberg News. At least three of the people worked for either Hillary Clinton or Bernie Sanders in 2016 while also casting ballots as superdelegates.
The superdelegate system has been a focus of complaints from supporters of Sanders, the Vermont senator who challenged Clinton, and activists on the left, who have said the party's nominating system is rigged in favor of corporate interests. While most superdelegates are elected to a public or party office, the at-large DNC members are chosen by party leaders.
The appointment of active corporate lobbyists as at-large members of the 447-member Democratic National Committee has aroused controversy in the past.
"I will register my customary objections" to the selection of at-large members, said Christine Pelosi, a California-based vice-chair of the DNC who in February authored a proposal to bar the appointment of corporate lobbyists as superdelegates. The national committee voted down her proposal.
Party spokesman Michael Tyler stressed the demographic reach of the at-large nominees, saying they "reflect the unprecedented diversity of our party's coalition." The party is doubling the representation of millennials and Native Americans on the DNC and increasing the number of Puerto Ricans, he said.
Iowa, New Hampshire
The influence of any one delegate is limited in a presidential nominating convention that in 2016 included more than 4,700 members. But the slate of 75 at-large members that DNC Chairman Tom Perez will ask the committee to approve Saturday is more than the combined 68 delegates at stake in the 2016 Iowa caucuses and New Hampshire primary.
More than 700 superdelegates cast ballots at the 2016 convention, most of them Democratic members of Congress, governors or national committee members.
Pelosi, whose mother is House Democratic Leader Nancy Pelosi, has opposed for two decades the inclusion of at-large members in the DNC because she believes that all of the national committee's members should be elected to their seats and represent a specific state, region or constituency.
A DNC aide who asked not to be identified defended including the lobbyists, saying they were all carry-overs from the last presidential election cycle and were renominated because of their service to the party.
News Corp., Citgo
One of the lobbyists is Joanne Dowdell, who's registered as a federal lobbyist for News Corp., where she's senior vice president for global government affairs. Dowdell ran for New Hampshire's House seat as a Democrat in 2012 and is a party donor.
Two other lobbyists who disclosed corporate clients in their most recent public reports are Clinton White House veteran Harold Ickes and Manuel Ortiz. Ortiz's clients this year include CITGO Petroleum Corp, owned by the Venezuelan government, and Citigroup Management Corp. Ortiz also lobbies for Puerto Rican interests.
The three lobbyists didn't respond to requests for comment.
At least 10 of the other superdelegates chosen by Perez have in the past been registered federal corporate lobbyists, with their most recent filings ranging from late last year to nearly a decade ago.
Rules Change
The DNC's "Unity Commission," established to heal rifts between wings of the party loosely associated with its two 2016 candidates, is considering proposals that could diminish the influence of superdelegates. The commission meets Wednesday.
The new at-large members also includes operatives who worked on 2016 presidential campaigns who, if hired again in 2020, would each deliver one delegate vote to their bosses. At least three of the at-large members on Perez's slate were both superdelegates in the last election and worked on primary campaigns: Jeff Berman, who planned delegate strategy for Clinton; Minyon Moore, a senior adviser who worked on Clinton's White House transition; and Larry Cohen, a labor liaison for Sanders.
Two other former Clinton campaign workers, Emmy Ruiz and Craig Smith, are also among Perez's slate of new at-large members, along with Sanders's former press secretary, Symone Sanders.
The slate includes 21 union representatives, an increase from recent years. Among them: Randi Weingarten of the American Federation of Teachers, Lily Eskelsen Garcia of the National Education Association, and Lee Saunders of the American Federation of State, County and Municipal Employees.
Atlanta mayor Kasim Reed and former Philadelphia mayor Michael Nutter, are also slated to become at-large DNC members.
Others chosen to be at-large members are Ellie Perez of Arizona, an undocumented immigrant who arrived in the United States as a child and is enrolled in the Deferred Action for Childhood Arrivals program; Marisa Richmond, a transgender African-American woman; and four people from Puerto Rico.
Before it's here, it's on the Bloomberg Terminal.
LEARN MORE