What We Learned on Day One of China's 19th Party Congress
By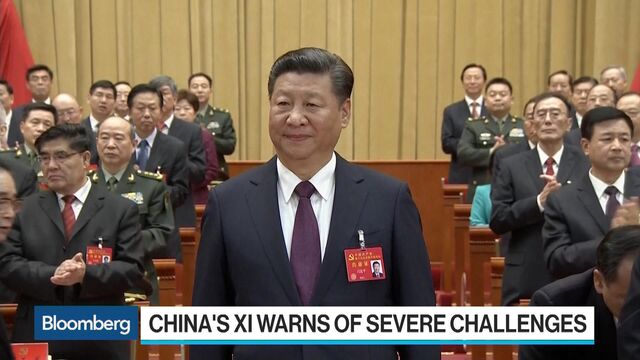 President Xi Jinping kicked off a twice-a-decade Communist Party meeting on Wednesday with a lengthy speech that leaned heavily on history to set out China's ambition to become a true global power by 2050.
Here is what we learned about his plans from the first day of the congress:

Xi's Marathon Address
The speech, which lasted for more than three hours, marked the start of a week-long congress that will wrap up with the newly-selected members of the Politburo Standing Committee -- China's most powerful party body -- presenting themselves by walking onto a red-carpeted stage in the Great Hall of the People. While the process for choosing the leaders is opaque, it is not completely unpredictable.
Pomp and Pageantry
Xi delivered his speech -- known as the work report -- to more than 2,200 party delegates - some dressed in regional costume for the occasion. A strong theme was that China's version of socialism works and that there is no need to copy the political systems of other countries. Bloomberg's photographers captured the color and ceremony at Beijing's Great Hall of the People.
Xi Skips Growth Pledge
Xi quietly dropped a line that was integral to predecessor Hu Jintao's address five years back. Instead of Hu's pledge that China would "double its 2010 gross domestic product" by 2020 -- which roughly dictated a 6.5 percent annual pace of growth -- Xi made a vaguer commitment that China would stick to previous requirements and build a "moderately prosperous society" by 2020. This shift may mean less emphasis on a growth figure as a means to an end, with more attention to battling pollution and taming financial risks.
U.S. Softens FX Criticism
Hours before Xi took to the stage, the U.S. issued a report easing its criticism of China's approach to the yuan, lauding Beijing for acting to avoid a "disorderly" depreciation in the currency. The shift is a softening from President Donald Trump's campaign rhetoric over China's currency and trade practices, with the two nations needing to smooth out ties and cooperate in combating the weapons threat from North Korea.
Thursday's agenda
At 9 a.m., a delegation from the financial sector will hold an open discussion in the Great Hall's press conference hall. An hour later, China will release its third-quarter GDP statistics. Analysts surveyed by Bloomberg estimate the economy expanded 6.8 percent.

Before it's here, it's on the Bloomberg Terminal.
LEARN MORE