Congressional Committee Votes Not to Put Temer on Trial
By and
Committee votes 39 to 26 against trial of President Temer

Decisive vote on house floor expected as soon as next week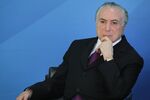 A Brazilian lower house committee voted against putting President Michel Temer on trial as fresh criminal allegations have sidetracked his reform agenda.
Lawmakers on the Constitution and Justice Committee voted on Wednesday 39 to 26 in favor, with one abstention, of a recommendation to shelve charges of obstruction of justice and criminal conspiracy in a non-binding decision. In July, the committee voted 41 to 24 against prosecuting the president on bribery charges. The full lower house is expected to cast the definitive vote as early as next week on whether or not Temer will stand trial at the Supreme Court.
Successive waves of corruption allegations have bogged down Temer's administration, sunk his popularity and blown his economic reform agenda off course. Government officials who have been obliged to muster support for the embattled president have consequently had less time to secure backing for his main policy proposals including a pension overhaul, which has languished in Congress since May. Political uncertainty is also holding back investments and slowing a recovery from recession.
Brazil's government expects Temer to defeat this round of charges with the support of between 275 and 290 of the 513 lower house deputies, according to an official with knowledge of the situation. Support from two-thirds of the lower house is needed to approve a trial.
The toll from on-going corruption probes, that have also ensnared top cabinet members including Chief of Staff Eliseu Padilha, has been wide-ranging. Temer's popularity has plummeted to a record low, prompting both crucial allies such as lower house speaker Rodrigo Maia to distance themselves from the president. Meanwhile, populist candidates have risen quickly in polls for next year's elections.
The lower house's Constitution and Justice Committee and floor voted in July and August, respectively, against putting Temer on trial on separate charges of corruption.
Before it's here, it's on the Bloomberg Terminal.
LEARN MORE