As Indonesia's Parties Scramble, Jokowi Won't Commit to Re-Election Bid
By , , and
Campaigning will start soon for election due in 2019

Jokowi faces rising tensions with hardline Islamic groups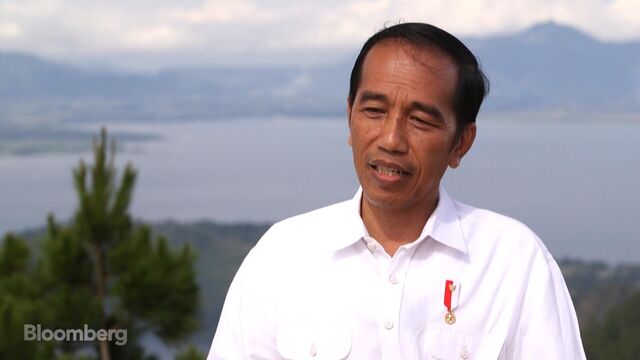 Even as four political parties throw their weight behind Joko Widodo running for re-election, Indonesia's president isn't committing.
While the election in Southeast Asia's largest economy won't be held until April 2019, parties are already gearing up for what will be a lengthy -- and potentially divisive -- campaign. A early test of the staying power of Widodo, known as Jokowi, will be local elections in June next year.

Asked several times in an interview on Saturday if he intended to seek another term, Jokowi was coy. Instead he smiled and said he was focused on working with his ministers.
"I am now just concentrating on the job, on the tasks the people have entrusted me to do," Jokowi told Bloomberg Television's Haslinda Amin on a hilltop overlooking Lake Toba, a volcanic crater in northern Sumatra. "Regarding the upcoming presidential election, I'll leave it to the people," he said.
Former Jakarta governor Jokowi, 56, is the first president to come to power from outside the political elite, gaining support with pledges to improve people's daily lives while making it easier to do business by streamlining regulation and tackling graft. He has presided over an economy that regained an investment grade sovereign debt rating and has focused on improving infrastructure in the world's largest archipelago, but has also faced difficulties in parliament and more recently criticism from hardline Islamic groups.
"Right now all parties are concentrated on the upcoming 2019 presidential election," Jokowi said. "Well, go ahead. For me, I will concentrate on work," he added. "If the people want to judge me as doing well, please do. If the people want to judge me as doing not well, then also go ahead. The people have the right to judge. Don't ask me."
Read more: How Indonesia's protectionist push tests foreign ventures
Jokowi cited as his achievements so far shifting funds from fuel subsidies toward infrastructure, health care and education. He also mentioned his tax amnesty, which he said unearthed $370 billion in previously undeclared assets.
"All leaders must want to bring prosperity to the people," he said. "Our biggest vision is to work on the foundation. This is very important. Upgrading the infrastructure, fixing the infrastructure, building infrastructure. In the next stage we want to build our human resources. That's the focus."
Jokowi's popularity remains high -- a September survey by Jakarta-based Saiful Mujani Research and Consulting put his approval rating at 68 percent -- and after a tricky first few months he cemented his hold on parliament, where he has the support of parties holding more than two thirds of seats.
Read more: how Jokowi is seeking private sector funds
Golkar, the second-largest party in parliament behind Jokowi's Indonesian Democratic Party of Struggle, or PDI-P, has backed him publicly to contest the election in 2019. Hanura, a coalition partner, has thrown its weight behind Jokowi, citing the government's success in pushing infrastructure projects and its focus on development, the state-run Antara News Agency reported in August. Two smaller parties also back him.
Still, while Jokowi's infrastructure push is popular with voters, some feel he has not done enough to create jobs or improve the cost of living, according to Djajadi Hanan, a director with survey company SMRC. "If we narrow it down we find one big weakness," he said. "People feel that the price of basic goods is still very high."
"If the government can perform well with the economy then the reward will be there. But at the same time, if they do not do their homework over the next two years then it's possible his approval rating will decrease."
And he would face a difficult battle if he were to seek re-election. His rival in 2014, Suharto-era general Prabowo Subianto, could challenge again, and has been courting the Islamic vote in the world's most populous Muslim nation.
Prabowo was a key backer of Anies Baswedan's successful campaign this year for Jakarta governor. Jokowi's one-time ally Basuki Tjahaja Purnama, known as Ahok, lost the election in a campaign marred by religious tensions. An ethnic Chinese Christian, Ahok was later convicted of blasphemy for comments he made about the Koran, and jailed.
Race and religion may play a large role in the 2019 vote. Jokowi in late July was granted new powers to outlaw mass organizations. He banned Hizbut Tahrir, citing its support for a Muslim caliphate and other activities that deviate from Indonesia's state principles, known as Pancasila.
Some opposition parties criticized the move, and his actions could give leeway for opponents to again raise questions about his Islamic credentials. Days before the 2014 election, Jokowi made a dash to the holy city of Mecca after he fended off allegations over his religion and ethnicity during the campaign.
In any election campaign Jokowi would need to deal with the rise of more radical religious groups, according to Tobias Basuki, a researcher at the Centre for Strategic and International Studies in Jakarta. "He is open to attack particularly with Jakarta now being held by the opposition," Basuki said.
Still, Jokowi described Islam in Indonesia as tolerant, pluralist and modern.
"I think people should see that," he said, describing as "small problems" recent incidents of religious intolerance. "I think a country the size of Indonesia with a total population of 250 million people, 17,000 islands, 714 ethnic groups, it's a huge country."

He also brushed off implications for the presidential vote from the Jakarta election. "That's not a religious issue," he said.
"The issue in the Jakarta governor election was an issue of politics, not an issue of religion," Jokowi said. "Islam in Indonesia is a tolerant Islam, a pluralistic Islam, a modern Islam, a moderate Islam."
Watch Next: Indonesia: Jokowi's Vision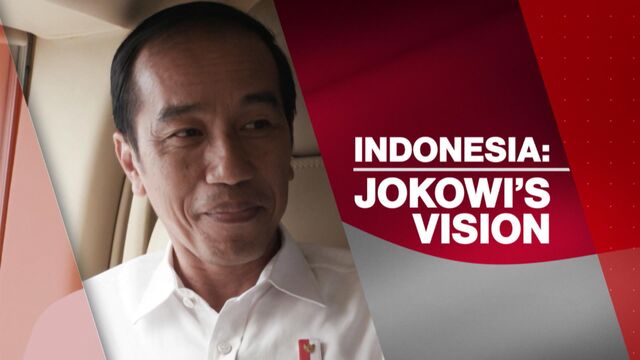 — With assistance by Haslinda Amin, and Karlis Salna
Before it's here, it's on the Bloomberg Terminal.
LEARN MORE