AmEx CEO Chenault to Exit, Succeeded by Vice Chairman Squeri
By and
Chenault is one of the most prominent black U.S. executives

Steve Squeri will take over credit-card company on Feb. 1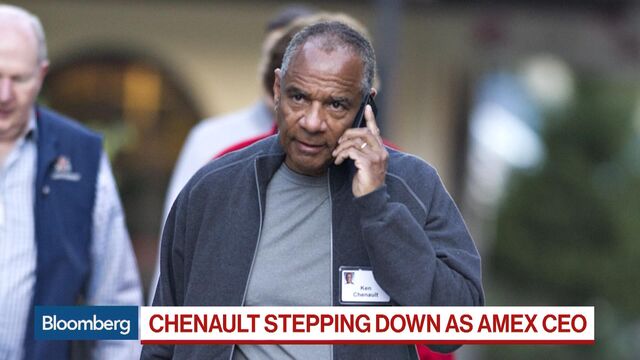 American Express Co. Chief Executive Officer Kenneth Chenault is stepping down after 16 years running the credit-card lender and will be replaced by Steve Squeri.
Chenault, 66, will stay on until Feb. 1, the New York-based firm said Wednesday in a statement. Squeri, 58, is vice chairman and has been at AmEx for three decades.
"We're completing a two-year turnaround ahead of plan and getting ready to start a new chapter," Chenault said on a call with analysts after the company reported third-quarter profit that beat Wall Street estimates and boosted its full-year earnings forecast. "Given the progress we're making, I thought this was the right time to begin the leadership transition."

A graduate of Harvard Law School, Chenault has been with the firm since 1981 and is one of the longest-serving black CEOs in the U.S. After stints as president of the New York-based lender's travel unit and later chief operating officer, he was named chairman and CEO in 2001. He also serves on the boards of International Business Machines Corp. and Procter & Gamble Co.
"Ken's been the gold standard for corporate leadership and the benchmark that I measure others against," Warren Buffett, whose Berkshire Hathaway Inc. is the largest AmEx shareholder, said in the statement. "He led the company through 9/11, the financial crisis and the challenges of the last couple of years. American Express always came out stronger."
Co-Brand Deals
Under Chenault, who is among the highest-paid CEOs in U.S. finance, AmEx aggressively pursued co-brand credit-card deals with airlines and other large retailers. Those partnerships ultimately helped the firm become the largest issuer by customer spending in the U.S., a strategy that began to unravel as competitors including JPMorgan Chase & Co. and Citigroup Inc. stepped up spending on rewards to wrest away AmEx's wealthy customers.
Chenault amassed a fortune by devoting his entire career to the company, having sold more than $200 million of AmEx shares, pretax, since early 2002, according to data compiled by Bloomberg. He still owns $114.6 million of stock, as well as $68.6 million of options that he's free to exercise now. In addition, he has a retirement package worth as much as $94.9 million based on Wednesday's closing price. About half of that comes from pension and deferred-compensation benefits, according to the firm's latest proxy filing.
"I am delighted, as someone with a large ongoing financial interest in the success of this company, to turn the reins over to" Squeri, he said Wednesday on a conference call with analysts.
Succession Questions
The question about who would replace Chenault has been a topic of discussion among investors as the firm has lost top executives through departures to other companies and an untimely death. Squeri was named vice chairman in 2015 after President Ed Gilligan, who was considered Chenault's most likely successor, died after suffering an embolism and subsequent heart attack on a return flight from Tokyo. Squeri was group president of global corporate services before becoming vice chairman.
"From everything I've heard, he's absolutely the right person for the job," Buffett said of Squeri. "He knows the business, has a great track record and appreciates what makes American Express special."
Squeri said he viewed Chenault as a mentor. "I feel very good about what we've accomplished and, while it's a fast-moving competitive marketplace, I believe we're in a strong position for the years ahead," he said in the statement.
Less than 5 percent of the 200 largest U.S. companies are led by African-American CEOs, according to a 2016 report from recruitment firm Spencer Stuart. Chenault is the second of that group to announce plans to step down this year, along with Xerox Corp.'s Ursula Burns.
The ranks of black executives have also been declining at the biggest banks. At JPMorgan Chase & Co., Citigroup Inc. and Goldman Sachs Group Inc., the percentage of senior black executives and managers fell over the past five years, according to U.S. workforce data compiled by Bloomberg.
See also: Black executives disappearing from some big Wall Street banks
AmEx shares slipped 0.5 percent to $91.65 at 5:45 p.m. in extended trading in New York. The company's share price has climbed 91 percent since Chenault took over as CEO, compared with the 9.9 percent advance of the S&P 500 Financials Index.
— With assistance by Jenn Zhao, Jack Witzig, and Max Abelson
Before it's here, it's on the Bloomberg Terminal.
LEARN MORE